By Nicole Manger
Arizona Daily Wildcat March 3, 1998

Re-carding drive begins despite computer glitch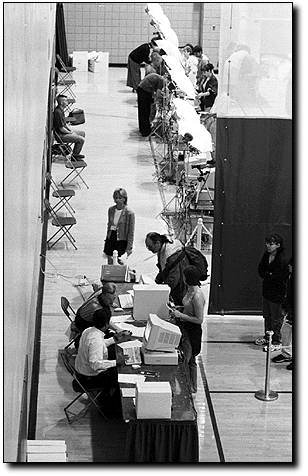 Charles C. Labenz
Arizona Daily Wildcat

First day computer glitches cause a delay for students getting their new CatCard in the Student Recreation Center yesterday morning.


About 1,500 students got their new technologically-superior CatCards during the first day of the UA's re-carding drive yesterday, despite a computer glitch that slowed the process for about two hours.

"You guys are faster than the DMV," Matthew Kaufman, a political science senior, said after the computer problem was fixed.

CatCard's re-carding effort, which runs through March 23 at the Student Recreation Center, is exchanging old identification cards for new ones featuring a Smart Chip.

Starting March 23, the new CatCards will be the only identification cards recognized by the university, and old ID cards will be invalid after that date. Students without the new card will not be able to access library privileges, the Rec Center, or All Aboard and Pocket Money accounts.

The Smart Chip - a gold chip about the a size of a dime - can store 1 kilobyte of information directly on the card, said Julie Gardner, a Bursar's Office principal management analyst. The University of Arizona is one of seven schools across the nation to apply the new technology to campus services.

"There's been a drive on campus to have a universal ID card," said Christine Farley, a Bursar's Office senior management analyst. "The card uses technology as a convenience to make services better."

Although cards are free during the re-carding event, those issued after March 23 will cost $20.

Between 9 a.m. and 11 a.m. yesterday, the wait to get a CatCard was about two hours due to a computer problem.

Farley, who was prepared for initial set backs, gave away T-shirts to students who knew UA trivia during the down time.

"People were incredibly patient," she said.

By the afternoon, students got their new cards in about five minutes.

"It's really fast, super fast," said Mathew Zemel, an engineering and mathematics junior.

Kaufman said he wanted to eliminate potential problems by replacing his card early.

"I can see it being a real pain (later)," he said.

Saderia Mosby, an accounting freshman, did not think replacing her seven-month-old identification card was an inconvenience.

"This (the CatCard) is a better benefit," she said.

Once the new system is operational after spring break, students will be able to deposit money into machines similar to automated teller machines, which will credit the CatCard account stored on the Smart Chip.

Students can start using their CatCard for washers and dryers in residence halls next week. Library copy machines and campus vending machines will be converted to Smart Chip technology before fall.

Students and faculty can get the new CatCards from 9 a.m. to 5 p.m. Mondays, Tuesdays, Thursdays and Fridays, and Wednesdays from 11 a.m. to 7 p.m. The re-carding center will also be open this Saturday from 9 a.m. to 4 p.m.

Students can park for free during the re-carding drive in Lot 8109, on northwest corner of East Seventh Street and North Cherry Avenue.

Cat Tran's "green" express route shuttle also stops on the west side of the Rec Center every 15 minutes.