By Jimi Jo Story
Arizona Daily Wildcat March 4, 1998

Changing children's lives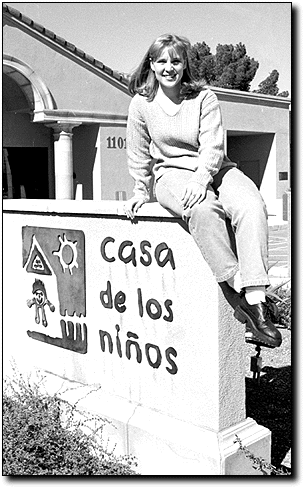 Leigh-Anne Brown
Arizona Daily Wildcat
Pre-nursing senior Bridget Booth sits on the sign of Casa De Los Niños, a crisis shelter for abused, neglected or homeless children, where she volunteers three hours a week.

Second in a five-part series
Bridget Booth believes if she can make a positive difference in one child's life, she has reached a lifelong goal.
Booth, a University of Arizona pre-nursing senior, is one of many students who volunteers around Tucson.
She spends three hours a week at Casa de Los Niños, a crisis shelter for abused, neglected or homeless children at 1101 N. Fourth Ave.
"Sometimes a child will remember my name and run up to me and give me a hug. It is the greatest feeling," Booth said.
Booth started working at Casa de Los Niños two years ago because she wanted to get a reference for nursing school.
Dan Gregory, director of volunteer services, said there would be no way the residential shelter could exist without the help of its 350 volunteers. Booth began working in the nursery with 6-month-old children, then transferred to the medical office, where now she's found measuring height and weight and clipping fingernails and toenails.
She also takes the time to read to the children.
"If I see a kid, I'll stop and read them a book or help them to read," Booth said.
While she loves working with the children, it is not always a happy thing, she said.
"I had a beautiful little 4-year-old girl come up to me on the playground and say, 'My Daddy went to jail,'" Booth said. "Then she said, 'My Daddy went to jail because he put bruises on me,' and I almost fell over.
"Here was this little 4-year-old who understands that her dad went to jail because he hit her. They're a lot more mature than you think they are."
Booth's motives for working have changed during the time she has been at Casa de Los Niños.
"I started to volunteer because I want to be a nurse and for my résumé. But now I do it 100 percent because I love being there," Booth said.
She said her experience has shown her that she definitely wants to work with kids.
Gregory said that Casa de Los Niños is always accepting applications from people who want to volunteer.
"We ask that if you want to volunteer you commit to six months and three hours a week," Gregory said.
Volunteers will go on a tour of the facility, then receive an application that requires a physical, reference letters and immunization records. The applicants go through a personal interview and are asked to sign a confidentiality statement to protect the children.
For Booth, volunteering is all about helping children. She said that her life philosophy can be defined by an anonymous quote: "100 years from now, it will not matter what kind of car I drove, what kind of house I lived in, how much was in my bank account nor what my clothes looked like. But the world may be a little better because I was important in the life of a child."
Booth said, "I think children are the most important gift - it's so special to make a difference - I really believe in it."
Students interested in volunteering at Casa de Los Niños can call its volunteer office at 624-5600.