By Jennifer M. Fitzenberger
Arizona Daily Wildcat September 9, 1997

Faculty Senate disputes AIC's need for loan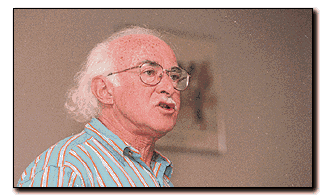 Adam F. Jarrold
Arizona Daily Wildcat

Senator Miklos Szilagyi, professor of electrical and computer engineering, questions interim president and provost Paul Sypherd (not pictured) about a $1 million loan that the UA gave the Arizona International Campus of the UA, during the first Faculty Senate meeting of the year.


The Faculty Senate decided yesterday that many questions surrounding Arizona International Campus of the UA need to be answered before its first class graduates.

Senators questioned the need for a $950,000 loan from the University of Arizona, which was intended to keep the branch campus afloat, and how AIC faculty are classified compared with those at the main campus.

Miklos Szilagyi, professor of electric and computer engineering, said he did not understand why AIC needed the loan, pointing to advertising money that funded a Phoenix billboard which read "Join AIC."

"It costs too much for a hundred students to go there and it does not have enough money," he said, noting that AIC is under severe budget restrictions. He asked which faculty body was consulted when the loan was approved.

Robert Mitchell, a university librarian, said he also did not understand how the money allotted to AIC was being used.

The branch campus is under-funded, said Paul Sypherd, interim president and provost, because the Legislature overestimated enrollment and funds expected to be carried over from last year.

Although the state expected tuition revenues from 290 full-time students, fall enrollment is estimated to be between 95 and 115 students.

"We either had to allow AIC to close or lend them the money," Sypherd said.

He said he did not know of another college or university that went from an idea to implementation so quickly.

Senate members also asked if AIC faculty are the same as their counterparts at UA.

"They receive paychecks that say the University of Arizona, so they should be considered the same as our faculty," Sypherd said, although AIC faculty are unable to receive tenure.

It was noted that an AIC representative did not sit on the Senate.

Thomas Davis, a pharmacology professor, and Donald Myers, a mathematics professor, said they did not understand how AIC was associated with UA and expressed concern about degree programs that have not been approved by the board.

It was agreed that discussion focusing on degree programs should be a future Senate issue.

In other business, the Guidelines for Shared Government, a document outlining an agreement between UA faculty and administration to share the mission of the university, was passed with five dissenting and one abstaining votes.

Marlys Witte, professor of surgery, said the Senate should wait to accept the document until President-elect Peter Likins becomes part of the Senate Oct. 1.