By Alicia A. Caldwell
Arizona Daily Wildcat September 9, 1997

Restricted budget causes Communication problem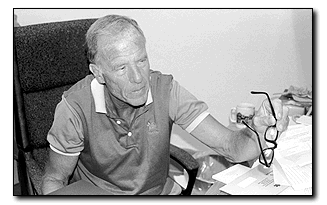 Leigh-Anne Brown
Arizona Daily Wildcat

David Williams, acting head of the Department of Communication, discusses the problem of the lack of instructors for the fall semester. This has led to the cancellation of many classes.


Students attempting to register for communication classes may have run into a lack of sections being offered due to budget constraints.

The Department of Communication began the fall semester with a smaller staff and fewer class offerings than student demand.

Acting Department Head, David Williams, said the department lost the equivalent of two and a quarter graduate teaching assistants who accepted jobs over the summer, a senior professor who chose to go into industry and another who took a part-time position with the Provost's Office.

Williams said the loss of instructors forced the department to scramble for replacements but only two classes were canceled due to the instructor shortage.

"I was up night and day trying to find anyone in the country," Williams said.

In order to make up for the faculty loss, Williams said he and other professors have taken on a heavier teaching load than originally anticipated.

"I'm still teaching two sections of Communication 106 when I shouldn't be teaching at all," Williams said. Others professors have picked up extra classes as well.

He also said while there is an overload of students, he has not heard of one senior who could not graduate due to this situation.

All instructors were alerted to the upcoming problems of more students than classes and asked to over enroll whenever possible, according to Williams.

The department has been working with both Dean Holly Smith and Associate Dean Juan Garcia of the college of Social and Behavioral Sciences.

Williams said Smith has helped work with the department with its instructor replacement efforts.

"Dean Smith has been very supportive to our situation," said Williams. "Without her we would not have had a national search last year."

All teaching assistants, with the exception of those involved in research projects, have taken an increased teaching load this semester to ensure that as many students as possible could be enrolled in classes.

Garcia said the college is aware of the problem being experienced by the department and it is looking at solutions from various angles.

"We fight the battle (of a lack of faculty) every year," Garcia said. "Both at the college level and the central administration level. We are aware of it."

When a department within the college loses an instructor, a request is put in with the college for a replacement. All requests are then put into a pool and the department that shows the greatest need at the time will typically receive a replacement.

"We distribute the positions (to requesting departments) and tell them that they can recruit," Garcia said.

One reason there is a higher demand than there is space available is due to the substantial amount of general education courses that are taught by social and behavioral sciences, according to Garcia.

While Garcia and Williams recognize that a problem does exist, it does not seem to be a large problem for many students campus wide.

"I didn't have any trouble registering for any of my classes," said Josh Kaufer, systems engineering junior. " I think it was because I am an engineering major."

But Lisa Schneider, finance junior, had a different experience.

"I had a lot of trouble registering, most of the classes that I needed were full," she said. "I tried to get signed in but couldn't so I had to try to find other classes that were available."

Garcia said he has suggested to departments that have a small number of instructors to re-assign faculty to the most demanded classes and in addition, that faculty sabbaticals be spaced out so there is not a gap left by several faculty members being gone at one time.

Other problems faced by the college and those departments within it include a budget based on the previous year's enrollment.

"The number of students is up this year, but we are operating on a budget based on last year's enrollment," Garcia said.