By Kristen Davis
Arizona Daily Wildcat September 9, 1997

Setback queen: Morton overcomes obstacles, enters Wildcats starting volleyball lineup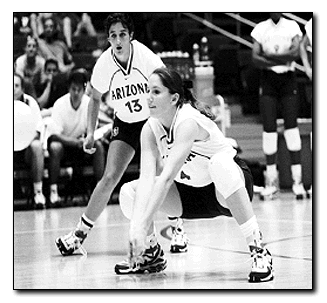 Adam F. Jarrold
Arizona Daily Wildcat
Sophomore outside hitter Raelene Morton digs the ball during Arizona's victory over Colorado State on Saturday at McKale Center. Morton has faced obstacles, but has still managed to secure the starting outside-hitter position.

The instant Raelene Morton starts to improve, something seems to bump her back to the starting point.
The starting outside hitter on Arizona's volleyball team has endured two incidents that have set her back since she began her career at Arizona last fall.
During last season's preseason workouts Morton, now a sophomore, showed head coach Dave Rubio she deserved some playing time in the upcoming season. Her chances were shattered, however, on the last day of two-a-days practice when she went down with a third-degree sprain in her right ankle.
Morton was out one month ­ longer than everyone predicted ­ and did not make her collegiate debut until Arizona's 10th match.
"It was really frustrating because it already takes time to pick up a program that's at a lot higher level and then I was back down there again," Morton said.
She eventually regained the jumping height and speed she possessed when she entered the program but did not see significant time on the court.
"By the time Raelene was at full strength, the positions were pretty well solidified," Rubio said. "She missed the training she needed for her to be competitive."
Morton spent most of the season watching from the bench and returned home to Gridley, Calif. in the summer to follow a demanding weight training program. She put in a lot of time in the weight room and it began to show. Near the end of June, Morton was already lifting the weight UA's strength coach Carla Garrett had projected her to be at when summer break ended. She was excited to return to Arizona and show her progress.
Then Morton's progress was dealt with a second blow.
She was in a car accident on June 27 that left her with whiplash in her neck and back and a few damaged ribs. The accident, which was not her fault, prevented her from strengthening her upper body for about a month.
When she returned to Tucson for fall practice last month, she was basically in the same condition as when she left for summer break.
"I just said, 'Great, kick me and send me back down again,'" Morton said.
Morton said she originally wished Rubio had redshirted her last season. She ended up playing in just six matches.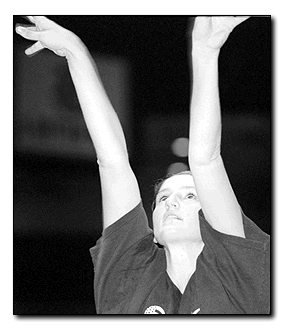 Adam F. Jarrold
Arizona Daily Wildcat
Trying to recover from injury is a thing of the past for sophomore Realene Morton. Morton,setting, had an injury-free preseason for the first time this fall and is in the starting lineup for the first time as well.
In hindsight, however, Morton realizes the benefits of not redshirting. Mainly, she was able to play with the team during spring competition.
"It was a big opportunity because Barb (Bell) and Heidi (Bomberger) were gone so I pulled right into the left side and had time to build up and get better," Morton said.
Rubio did not take her out a single minute during spring ball matches. The time on the court gave her valuable experience that helped her earn a spot on Arizona's starting lineup.
After attacking the ball just four times last season, Morton approached the net 44 times in the Wildcats' two matches last weekend. More importantly, she has eluded a third setback to her collegiate career.
"Hey, things happen," Morton said. "Whatever happens I'm just going to take it and go with it."
She is averaging 2.33 kills on the season, but admits she has a lot of room for improvement.
"She has the ability to compete every day and is one of our best competitors," Rubio said.
"Raelene has to continue to develop as a left side hitter. If she struggles then often we struggle and our options break down."
The main thing Rubio said Morton needs to concentrate on is continuing to put time in the weight room to gain power.
Morton is also working on perfecting her timing and adjusting to the Wildcats' different setting schemes.
Arizona, ranked No. 19, is working on a hut set, which is a faster set to the left side. It is similar to a middle blocker's quick set. Rubio said they are also looking at different offensive strategies to help the Wildcats (4-0) sideout when Morton, Erin Aldrich and Michelle Fanger are in the front row. Some of the changes include setting Carrie Penfield to hit from the back row and adjusting their serve-receive formation.
Penfield, Arizona's premier outside hitter, is spiking the ball two times more than Morton. Rubio said he would like to see Morton post 15 kills each match, although he admitted he is not sure if that is possible right now.
"Strength and shot selection are a critical part of her attack," he said. "She has to hit a lot harder with the intent of terminating the ball. That's a vital mind set for the left side attacker."
Arizona's offense has centered around the left side, particularly Bell, for many years. Although they have a strong core of middle blockers, the Wildcats know they cannot rely solely on one position.
"Our middle does a great job but the (left side hitters) have to be able to terminate the ball," Morton said. "It's not going to do us any good if we have to go to the middle all the time because we're kind of stuck and left without many options."