By Craig Anderson
Arizona Daily Wildcat March 10, 1998

The Language of Culture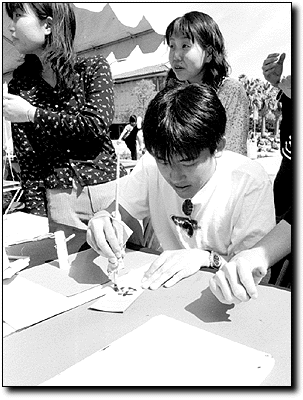 Katherine K. Gardiner
Arizona Daily Wildcat

Hidenori Sakurai, international culture and English sophomore, prints English names in Japanese characters amid the crowd at last week's Multicultural Week festivities on the Mall. Sacra is part of an eight-week study abroad program with Ryukoku University in Kyoto, Japan.


Koichi Sakamoto has been studying the English language for years in his native country of Japan.

Still, he hardly ever spoke a word of English in class until he came to Tucson as part of a UA Center for English as a Second Language study abroad program.

"In Japan, students (of English) study only grammar, and are too shy to speak in class," said Sakamoto, an international culture junior at Ryukoku University in Kyoto, Japan.

"In CESL classes, there are students from many other countries, so I must use English to communicate," he said.

Sakamoto is one of nine student visitors to the UA from Ryukoku, a Japanese university that dates back to the 17th century.

The eight-week CESL program at the UA is a first for the Japanese university, which is only now warming up to the idea of study abroad, said Bill Bradley, a UA Language Resource Center graduate student who is also an intercultural communications associate professor at Ryukoku and the students' escort to the United States.

Bradley said if the pilot program is a success, it could lead to more Japanese students coming to the UA for longer periods.

UA CESL Director Frank Pialorsi said there are students from four Japanese universities studying English at the UA this semester.

In all, students from 39 countries are studying English at the UA right now, he said.

"They're here for listening comprehension and speaking practice," Pialorsi said, "but it's a cultural experience too."

He said the UA teaches more than just English to students from foreign universities - everything from business to dog psychology.

Pialorsi said most schools have intensive programs for students who wish to study in the United States.

"It (CESL) is very competitive, and we get no state funding," he said. "The fees foreign students pay cover the cost of the program."

Al Stover, CESL's adjunct lecturer and study abroad program coordinator, said in addition to classroom teachers, 15 UA student counselors work 10 to 15 hours per week providing exchange students with out-of-class linguistic and cultural activities.

Melissa Kam-Young, a senior in the English department and a CESL program counselor, said she took her group to a cookout, a hayride, shopping excursions and more.

She said foreign students are interested in everyday American life and popular culture.

"They like to see everything - how we interact, what we wear, what's the best food in the Student Union," she said.

The Japanese students agreed that McDonald's was, in fact, the best food in the Memorial Student Union.

Bradley said even more students from Japan would probably come to the UA if it was not for the devaluation of the Japanese yen.

He said scheduling is also a problem because the Japanese school year runs from April to March.

The students in Ryukoku's five-week study abroad program are using their vacation time to study at the UA, Bradley said.

According to Ryukoku intercultural communications sophomore Shoko Morita, her vacation hasn't been entirely wasted on classroom study.

"I exercise, play pool, and drink coffee in coffee shops," Morita said.

The first-time pool player said her skills are improving faster in English than in billiards.

"I'm only so-so," she said.