By Susan Carroll
Arizona Daily Wildcat March 10, 1998

Get carded now or pay later, says CatCard official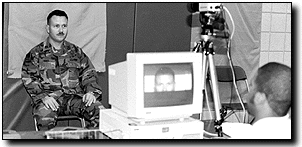 Charles C. Labenz
Arizona Daily Wildcat

Army ROTC Captain Karl Haas smiles for his new CatCard last week in the Rec Center. CatCard organizers are disappointed by the low number of people getting the new card and anticipate a crush of people in the last few days.


Get a new ID card now or you're going to pay.

That's the message from CatCard officials, who say that "payment" could be $15 or a long wait in line.

"Where is everybody?" CatCard project director Elizabeth Taylor asked yesterday.

Taylor said students will face long lines and eventually fees as the days dwindle before spring break and procrastinators scurry to get their new cards that feature a Smart Chip.

By Sunday afternoon, the CatCard office had churned out about 10,000 of the new cards, Taylor said. That leaves 32,000 students and staff who need to replace their ID cards within the next couple weeks.

Workers have been set up at the Student Recreation Center since last week to accommodate the large turnout. They were expecting 4,000 to 5,000 people a day, but only about 2,200 have been re-carded each day, Taylor said.

"There are no lines right now," she said. "The wait is only about 15 minutes."

The new CatCards will be the only official form of University of Arizona ID after March 23. Students without the new CatCards won't be able to use All Aboard funds at restaurants or campus vending machines, access the Rec Center or check out library books, among other things.

"I expect lines will be wild on the 23rd," Taylor said. "They'll probably be out the door on Thursday and Friday of this week."

She said many students will rush toward the end of the week to get the cards before spring break.

Procrastinators who miss the March 30 deadline for a free CatCard during the re-carding event will have to pay $15 for a new card.

"We don't want people to pay or stand in line," Taylor said. "That's why they need to get here now."

Sara Butalla, an aerospace engineering sophomore, said she would make the trek to the Rec Center tomorrow or Thursday.

"It's not so bad if you go after 3 (p.m.)," she said.

The re-carding event is in the Rec Center Monday, Tuesday, Thursday and Friday from 9 a.m. to 5 p.m. this week, and Wednesday from 11 a.m. to 7 p.m.

The Rec Center re-carding drive will also operate during the same hours through spring break.

More information about the CatCards and the re-carding drive is available on the World Wide Web at http://www.catcard.arizona.edu.