By Craig Degel and Joel Flom
Arizona Daily Wildcat March 10, 1998

Madness begins with Nicholls St.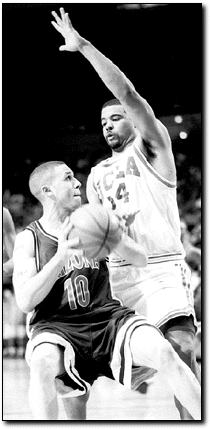 Adam F. Jarrold
Arizona Daily Wildcat
Sophomore guard Mike Bibby (10) avoids the UCLA defense Saturday in Pauley Pavilion. Bibby was named Pac-10 player of the year over the weekend.

Here's everything you've ever wanted to know about Nicholls State - Arizona's NCAA Tournament first round opponent - but were afraid to ask:
Located in Thibidaux, La., Nicholls State is a member of the Southland Conference. The Colonels finished their conference season at 15-1 after going 4-8 in a brutal nonconference schedule that included nine road games at stops including Florida, Louisiana State and Wyoming.
Nicholls State is led by seniors Kenderick Franklin and Russell McCutcheon. Franklin, a 6-foot, 6-inch forward, paces the team in scoring at 16.9 points per game and is second in rebounding swiping 5.3 per game. McCutcheon averages 16.7 ppg at the shooting guard spot.
"They have good quickness," Olson said. "They are athletic."
So is Arizona. Gentlemen, start your engines.
Sweet Dreams
Arizona senior Michael Dickerson held nothing back earlier in the season on how he felt about this year's NCAA Tournament.
It gave him nightmares.
A poor-shooting performance during last year's Final Four haunted Dickerson for most of the season, yet finishing the Pacific 10 Conference schedule strong has helped him catch some more winks at night.
"I am sleeping with both eyes closed now," Dickerson said. "It used to be one eye open and one eye closed."
A 30-point performance against UCLA, which included 22 points in the second half while leading the Wildcats' comeback charge, has gotten Dickerson over the confidence hump heading into the tournament.
"I think the UCLA game really did a number on me," Dickerson said. "I needed that."
"Looking at the tape (from Saturday), Michael Dickerson's game was as good as we have ever seen it," Arizona head coach Lute Olson added.
Dickerson's faith has eased his mind and reassured him that he will not have a repeat performance during this year's tournament.
"I pray to the Lord every night," Dickerson said. "I know that he is not going to let that happen to me two years in a row."
How to be a player
Over the weekend sophomore guard Mike Bibby picked up his latest award, Pac-10 player of the year.
Wins, however, and not awards still remain the goal for Bibby.
"I really don't look at individual things," Bibby said. "We are a team out there. We play as a team, we win as a team, we lose as a team. I am out there for the team. I am not out there for myself."
Confidence and consistency, as well as his team play, may have been large factors in why the coaches voted the way they did.
"Mike is so much more confident about the things that he needs to do," Olson said. "To me, the biggest difference is on the defensive side of the court."
"I think that Mike is playing with more confidence," California head coach Ben Braun added. "He is a guy that does not crack under pressure."
The man behind the man is sophomore guard Josh Pastner, who has spent countless hours working with Bibby.
"All the credit goes to Mike Bibby," Pastner said. "For me, I just want to see Mike be the best player that he can be."
This has included breaking down game tape, evaluating Bibby's shot, working on his jumper before and after practice and constantly talking basketball with him.
"Sometimes, I have to tell him to be quiet," Bibby said.
Olson was named coach of the year, while Dickerson and senior guard Miles Simon joined Bibby on the All-Pac-10 first team.
Dickerson denied ... again
The Arizona senior forward was left off Basketball Weekly's All-America teams.
Bibby was chosen to the publication's first team along with Antawn Jamison of North Carolina, Raef LaFrentz of Kansas, Bonzi Wells of Ball State and Ansu Sesay of Mississippi.
Arizona's Miles Simon was joined on the second team by Kansas' Paul Pierce, Georgia Tech's Matt Harpring, Michigan State's Mateen Cleaves and UConn's Richard Hamilton.
The third team includes Notre Dame's Pat Garrity, the Tar Heels' Vince Carter, Trajan Langdon of Duke, B.J. McKie of South Carolina and UNC-Charlotte's DeMarco Johnson.
(See Craig Degel's related story)