By Seth Doria
Arizona Daily Wildcat March 10, 1998

Persistence key factor in women's success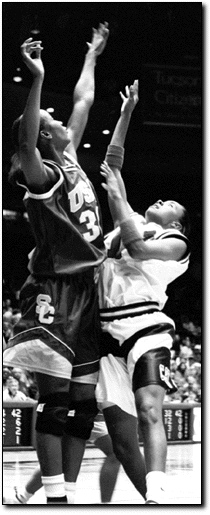 Matt Heistand
Arizona Daily Wildcat

Freshman guard Reshea Bristol (10) goes for a rebound against Southern Cal Thursday. Bristol was named to the All-Pac-10 Freshman team Sunday.


If there is one thing this weekend proved to the UA women's basketball team, it is that hard work pays off.

After going 11-19 during the 1994-95 season, UA head coach Joan Bonvicini worked herself, her staff and especially her players, and ended up 21-6 during the regular season this year.

On Sunday, her payoff came in two parts.

First, she found out her Wildcats would host the first and second rounds of the NCAA Tournament, making them a favorite to grab a spot in the Sweet Sixteen in Dayton, Ohio, in two weeks.

Making the Sweet Sixteen would be Arizona's best-ever postseason performance. The Wildcats suffered a narrow loss to host-team Georgia in the second round of last year's tournament.

As the icing on the cake, the Pacific 10 Conference women's coaches voted Bonvicini the Pac-10 coach of the year.

But as is customary for the Wildcat squad, winning a personal award comes second to team accomplishments.

"This is not about Joan Bonvicini," she said, "It's about our program and our staff. Our staff has done an excellent job of preparing our players for every game. Obviously our players have done a great job of improving each year in the conference and we're just very, very proud of them."

But Bonvicini did admit she was happy to get the award.

"This is a big honor for me," she said. "Those things will happen when you work hard. I'm really more excited for the kids. I think it's a great honor for our school."

And as Arizona prepares for its first-ever home tournament game, the Wildcats' queen of firsts, senior forward Adia Barnes, was the first UA women's basketball player to be named Pac-10 player of the year. Yesterday, Barnes was also named to the AP Women's All-America third team.

"I was really surprised," said Barnes, who has set UA career records in scoring, rebounding, steals, field goals attempted, field goals made, games played, games started, free throws made and free throws attempted. "It hasn't hit me yet.

"It was always something I wanted to do. But I don't really put a lot of thought into that stuff."

"I am extremely excited about Adia getting player of the year," Bonvicini added. "She was definitely not only the most valuable player for the University of Arizona, she was the most valuable player in the Pac-10. I'm just happy for how hard that girl has worked. I think it's a tremendous honor for her and the University of Arizona."

Barnes and Bonvicini were not, however, the only Wildcats awarded for their seasons. Redshirt freshman guard Reshea Bristol, whose January game-winning three-pointer to beat Stanford is the biggest single shot in the program's history, was named to the All-Freshman team.

"This is a well-deserved honor," Bonvicini said of Bristol's award. "She is a superstar in the making. Each game now, she's going to get better and better."

Confidence has been an issue for Bristol all season. When she's hot, there aren't too many people who can guard her. When she's not though, she often gets distracted by bad calls and missed shots.

But all that seems close to over after a spirited performance against UCLA Sunday, in which she showed again that she can play defense just as well as she can shoot.

"I could just see her confidence growing again after (Sunday's) game," Bonvicini said. "The one thing that Reshea has done is really increase her intensity when she plays, but particularly taking a great deal of pride in her defense.

"Many times we're putting her on the opponent's best perimeter player and so when she does that she plays with even more pride and she plays harder."