By Rachael Myer
Arizona Daily Wildcat March 11, 1998

UA marchers reclaim the night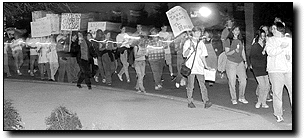 Nicholas Valenzuela
Arizona Daily Wildcat

Supporters of the "Take Back The Night" on the UA Mall march through campus carrying candles and posters. The event educated students about being more aware of their surroundings while on campus and about violence toward women.


A stream of glowing candles glistened under the moonlight and chants echoed against campus buildings last night as students marched to "Take Back the Night."

About 150 participants wore purple ribbons in support of women's rights, gathered information from various booths, listened to speakers, watched a self-defense display and ended the event by circling the campus in a march.

The event started in Germany in 1973 to create a safer environment after numerous murders and sexual assaults against women and children. It has gained considerable support across the United States, and this is the first time the event has occurred on the University of Arizona campus.

The Women's Resource Center and the Campus Acquaintance Rape Educators, which encouraged both women and men to participate, hope to make "Take Back the Night" an annual event with the help from the Tucson community and UA students.

"There is no way to end violence without the cooperation of men," said Whitney Grese, German studies senior and executive board member of CARE. "We are trying to convey the message that violence against women affects more than just women. We want to focus on the pain that can be caused when violence occurs."

One in four college women will experience some form of sexual assault, and 80 percent of all rapes are committed by acquaintances, Grese said.

CARE sponsors a two-credit pass/fail course specifically for men, Health Education 399, to teach about violence against women in a comfortable environment.

"I took this class to educate myself," said undeclared freshman Sonni Suchdev. "I wanted to do all I can to prevent the problem from getting any bigger. Every guy on this campus should be required to take it."

Margi Marsett, co-director of the Women's Resource Center, said she encourages all women who have been raped or have survived violence to seek free help from the Oasis Center for Sexual Assault and Relationship Violence, in Old Main 224, or the Tucson Rape Crisis Center, which has a 24-hour hotline - 327-7273.

"Women have a duty to catch little girls before they get into the negative version of womanhood as defined by the media," said creative writing graduate student Daphne Young, who brought her boyfriend's daughter, Katrina Griffiths, 10, to the rally to show her how to protest peacefully.

"I wanted her to know violence is not what she should expect despite what she sees on TV."