By David J. Cieslak
Arizona Daily Wildcat March 12, 1998

Nike's conduct will be enforced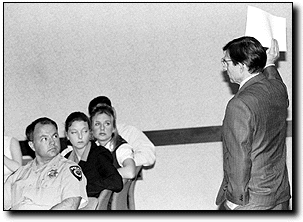 Ian Mayer
Arizona Daily Wildcat

President Peter Likins presented the Nike Code of Conduct to the ASUA Senate yesterday in the Tucson Room of the Memorial Student Union. Likins is the first president in more than eight years to appear in front of the Senate.


UA President Peter Likins told the ASUA Senate last night he appreciates student opinion about a pending contract with Nike but said it is a financial "drop in the bucket" compared with other corporate contracts.

"I don't want to create an impression that this is a major financial impact," Likins said. "It's important to me because it's important to you - that's it."

Addressing a crowd of about 40 people in the Memorial Student Union Tucson Room along with the Associated Students Senate, spectators and senators questioned Likins about allegations of Nike labor violations and how the university's contract will impact the corporation's labor practices.

Monica Wilson, a Students Against Sweatshops spokeswoman, said in spite of a code of conduct that has existed since 1992, Nike continues to commit labor violations.

"Nike's investigators have leaked reports of carcinogenic glues (in the factory's production of shoes) and threats of employee firings for not working overtime," said Wilson, a German studies and anthropology senior.

Likins reiterated his promises that the University of Arizona will hold Nike to its code of conduct, which states that the company will not commit acts of forced labor and prohibits illegal child labor by its contractors around the world.

"I want them to know that if they get themselves in trouble, they will lose the business of the UA," Likins said.

Likins, however, did acknowledge that although the code of conduct is in place, Nike will never be completely free of questionable conduct.

"There will continue to be abuses - you can put that in the bank," Likins said. "Nike will never be perfect."

Likins said creating a code of conduct similar to one Duke University drafted for its athletic apparel contract would be "worth exploring."

Duke University created its own code of conduct requiring suppliers of officially licensed Duke apparel to curb company labor violations. (See related story at right.)

After learning about Duke's plan and admitting it has "taken steps beyond what the UA has," Likins said he would be interested in looking into a contract provision to make sure Nike complies with the code.

Senators and members of the audience, who applauded Likins after his presentation, seemed to react positively to his visit.

Sharon Kha, UA director of institutional advancement, was on hand for the speech and said she felt the dialogue was useful.

"I thought it was a good exchange of ideas," Kha said.

Wilson said she wished the exchange could have taken place outside of the Senate.

"I'm concerned that students outside of the Senate meeting are not part of the discussion," Wilson said.

During his address, Likins stressed the importance of open dialogue with student government.

"The proper forum for my first engagement with students over Nike or any matter is student Senate," Likins said.

In other business, the Senate discussed ways to improve student retention.

Sen. Cisco Aguilar asked Likins about the UA's freshmen retention problem.

Likins said administrators are somewhat at fault for the problem.

"Across the country, advising is what we do worst," he said. "We do not do a good job of guiding students through their careers."

Likins said he wants the UA to create more on-campus jobs for students, which would create a stronger bond between them and the university.