By Rachael Myer
Arizona Daily Wildcat March 24, 1998

Abandoned pool hides beyond Union's bricks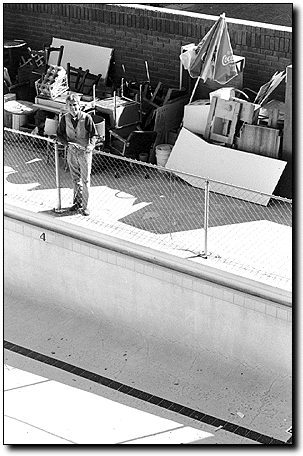 Dan Hoffman
Arizona Daily Wildcat

Memorial Student Union assistant coordinator for campus activities, Armando Vargas, stands with the empty swimming pool behind the Student Union. The pool was open from 1936 to 1990.


Tan students in wet bathing suits used to be a common site at the Memorial Student Union - that is when water still filled its swimming pool.

Most people do not know the Student Union has a 8-foot-deep pool, about 60 percent of an Olympic-sized pool, that contains no water.

The area, hidden by a brick wall on the northeast corner of the Student Union, looks like an ordinary part of the building.

The pool opened in April 1936 to the University of Arizona and Tucson community for $1 a person.

"Pools are like white elephants," said former pool supervisor Armando Vargas, now the Student Union's assistant coordinator for campus activities. "They are nice to have, but they never pay for themselves."

After losing about $15,000 to $20,000 for several years, the pool closed in August 1990 - when the Student Recreation Center opened.

Vargas said it would take more than $150,000 to bring the pool back up to current standards.

Areas that would need to be renovated include the pump, pipes, resurfacing of the deck and replastering of the pool - all of which would cost an extra $10,000 to $15,000, Vargas said.

The last day the pool was open, UA students and Tucson residents partied around it.

Up until the mid-1970s, each UA student was required to take a swimming course, so many still have fond memories, Vargas said.

"For me and a lot of patrons, we miss it because it was like family," said Vargas, who used to swim laps in the pool every morning. "We got to mix with off-campus and campus people. It was fun to take a dip between classes. We were sad to see it go."

The area, which now gets an occasional sweep for dust, stores odds and ends like buckets and folding tables, Vargas said.

Since about 1975, the UA has planned to add on to the Student Union, Vargas said.

"This campus is long overdue for something new and different for the Student Union," he said. "Funding has gone back and forth like a yo-yo. We want something up-to-date. The question is who and how will it be paid for."

The swimming pool is considered to be the largest area of non-utilized space in the Student Union, Director Dan Adams said.

The Student Union has a number of substandard spaces and some are in such bad condition they need to be redone, he said. Public areas, however, are kept as upright as possible, Adams said.

The pool's future will be determined by pending renovation plans, Vargas said. But he and Adams said it will probably be too costly to ever reinstate the Student Union's swimming pool.