By Joel Flom
Arizona Daily Wildcat September 10, 1997

UA not so Lucky in opener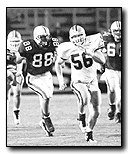 Arizona Daily Wildcat
Arizona's tight end Mike Lucky trails defenders in last season's game against Illinois. Lucky hopes to get back into the offense after catching one pass for -4 yards against Oregon.

Solid play and sticky fingers are characteristics Arizona fans have come to expect from junior tight end Mike Lucky. So when the junior looked unimpressive in the season opener, dropping a few easy passes, it would be easy to wonder if this would become a trend.
Arizona head coach Dick Tomey doubts, however, that Lucky will have that kind of performance again.
"He has been outstanding," said Tomey on being asked if Lucky had been having similar trouble in practice. "He has been one of our most consistent players."
The 6-foot-6, 275 pound junior struggled Thursday against Oregon, catching one pass for -4 yards.
"I have no excuses," Lucky said. "I played a terrible game. I should catch every ball that is thrown to me."
Tomey was puzzled as to why Lucky looked so out of place.
"It was just like it wasn't the same guy out there," he said. "Whoever it was that was out there, I don't expect to see him there again."
"Who knows, maybe the guy was trying too hard," said Tomey.
Offensive coordinator Homer Smith is ready to put the first game behind them. Working with Lucky this week in practice he said he was impressed with Lucky's work ethic especially following yesterday's drills.
"He was better from the ankles down today," coach Smith said. "He made several foot moves to get away from defenders and had good footwork."
Sophomore quarterback Keith Smith said he is partly to blame for the dropped balls as well.
"Lucky is confident that he should catch every ball, but I need to make sure that I put every ball on the money," Smith said.
Lucky was quick to criticize himself for his play, but eluded to his desire to get more opportunities to contribute to the offense.
"I had all the chances in the world to make plays on Thursday," Lucky said. "Hopefully I will get those same opportunities again."
As the sun set on Tuesday's practice, Lucky and Smith spent an extra half hour running routes and working on timing. Lucky made several catches on balls that were thrown out of his range.
"I have made the plays in practice but it only counts in a game," Lucky said. "I haven't done it in a game yet."
"Yet!" his close-friend and quarterback interrupted.
Despite the poor play of a few individuals, Tomey does not want to single out any one player or one play that made the difference in the Oregon loss.
"Our focus is on Arizona," Tomey said. "We have to get ourselves straight. The older guys have to perform the way that they are capable of performing."
Confident that Lucky won't have a repeat performance Saturday, Tomey said that junior Paul Shields will see more time at tight end. Shields made the switch from defense to tight end during spring ball, and progressed so well that he moved to No. 2 on the depth chart Although many have pointed to the kickoff return by Saladin McCullough as the Arizona's downfall Thursday, Tomey offered a different opinion.
"That (the return) wasn't the play that lost the game for us," Tomey said. "It certainly was a big play, but the most devastating play was the (Keith Smith) fumble at the goal line."
While Smith looked shaky in the opener and senior Brady Batten looked solid in the back-up role, completing nine passes for 104 yards and a touchdown, Tomey down-played any quarterback controversy talk.
"We have an excellent relief pitcher," said Tomey about Batten. "We have a lot of confidence in him and are blessed to have him."
Scott Bricker contributed to this report