By Tressa Girodo
Arizona Daily Wildcat September 10, 1997

Natural Born Leader


Arizona Daily Wildcat
Melissa Kessler

This year the Arizona women's soccer team selected it's two team captains, just as they have for the past three years. The players chose seniors Emily Bumps and Melissa Kessler.
No big deal, right? Team captains are chosen all the time.
But it is a big deal to Kessler, because she has always led by example. So when her teammates recognized her, it was important to Kessler, who has worked to become more than just a team captain, but a leader her entire life.
"I was always taught that if you have to do something why not do it the best you possibly can?" Kessler said. "If I have not given my all at something, I wonder why I wasted my time."
Kessler, a sweeper out of Elk Grove, Calif., gets her competitive drive from a childhood filled with athletics.
From ballet to powder puff football Kessler, the first person in her immediate family to attend college, has been competitive since she could walk and talk.
Kessler's road to Arizona was a surprise. She had no intentions of being an athlete at Arizona when she met now UA head coach Lisa Fraser. Kessler's high school coach played for Fraser, when she ran the Washington State program.
Through WSU soccer camps her junior and senior years Kessler formed a relationship with Fraser and was offered a scholarship to WSU. However, when Fraser accepted the chance to be the first head coach of the fledgling women's soccer program at UA, Kessler's scholarship was transferred to Arizona.
Since then, Kessler has built an impressive career at Arizona. As a member of the inaugural team, Kessler was voted Most Improved Player. She places third in career games played (46) and fourth in games started (38) with the entire season remaining.
"Melissa has always been in leadership roles, she is someone you really can depend on and look up to," said teammate Jill Micone, who has played with Kessler since high school. "She looks for the positive in every person and every situation."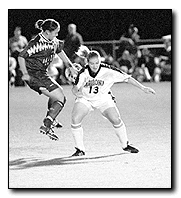 Nicholas A.Valenzuela
Arizona Daily Wildcat
Melissa Kessler (13), fights for a loose ball during Friday night's home opener against Arizona State. The Wildcats remain winless against ASU after they suffered a 2-1 loss.
Leadership has always been one of Kessler's strongest assets. She sets examples with both her words and her actions. Her hard work and dedication are noticed by fellow teammates and gives them the drive to do the same.
Kessler is the voice of encouragement after wins or losses, bringing up her teammates' intensity as well as her own.
"Mental toughness comes from within yourself, but it does have a domino effect. If others see it then they will do it," Kessler said.
At Elk Grove High School, Kessler was a four-year letter winner in soccer and basketball, earning captain and Most Valuable Player honors for three years. She was also chosen for Who's Who Among American High School Students and Who's Who Among American Athletes.
Former UA soccer co-captain Jennifer Rickard, who was Kessler's mentor in the sweeper position, agreed that Kessler has always been inspirational.
"Other players, especially underclassmen, look to her to set the standards and the tone," said Rickard.
According to her teammates, playing in the backfield is the natural place for the team's leader. Her position demands a player that can give her teammates a sense of security in the defense.
"We feel safe with her at the back, we hold a lot of faith in her," Micone said. "She knows the job to be done and does it."