By Susan Carroll
Arizona Daily Wildcat March 26, 1998

5% tuition vote likely absent from Regent's agenda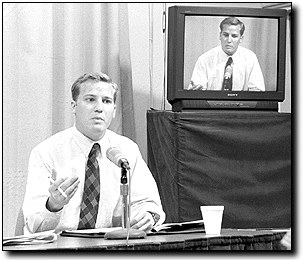 Brian Foster
Arizona Daily Wildcat

ASUA president Gilbert Davidson speaks to ASU, NAU, and UA students via television at last night's teleconference in the Harvill building. The teleconference pertained to tuition increases planned for all state universities. Students and faculty from the universities were allowed to express their views on the planned tuition increase.


The Arizona Board of Regents is not likely to vote this month on a 5 percent tuition hike UA President Peter Likins proposed last night at a statewide interactive tuition hearing, one board member said.

"My opinion is that the board will not make a decision next week," Regent John Munger said last night after listening to University of Arizona, Northern Arizona University and Arizona State University students' and parents' concerns about tuition increases.

Munger attributed the delay to a backup in the state Legislature that could leave the board of regents speculating about the amount of money universities will receive from the state.

More than a dozen UA students addressed the state's three university presidents and the board of regents in person and via teleconference to plead for no tuition increase. In-state tuition this year is $1,030 per semester, and out-of-state tuition is $4,356.

"We hear what students are saying, but we need to deal with the financial reality," Munger said.

Likins agreed. He said "a substantial financial aid increase" will benefit students more than low tuition.

Likins said the cost of living - not tuition - is the key problem for parents and students.

"That's what's killing people," he said.

Arizona students received more than $516 million in financial aid last year, and 42 percent of students graduated in debt.

"I have big loans," said Associated Students President-elect Tara Taylor. "We need to look proactively at what is going to benefit students most."

Likins asked the board of regents to more than double last year's 2.4 percent bump in in-state tuition. He broke down his request as 2.5 percent to meet minimum needs, 1 percent for financial aid and 1.5 percent for technology improvements.

ASU President Lattie Coor requested a 3 percent to 5 percent tuition hike and NAU President Clara Lovett recommended a 4 percent raise - depending on the Legislature's budget allocation.

"Students on this campus do feel every piece of the decisions we make," Taylor said.

If Likins gets his way, in-state students will pay about $52 more a semester, and out-of-state students will doll out about $218 more.

Arizona universities' tuition is the third lowest in the nation among public schools, and the state has a constitutional mandate to "keep education as free as possible."