By Mary Fan
Arizona Daily Wildcat March 26, 1998

Fraternity 'gives back' to elementary school kids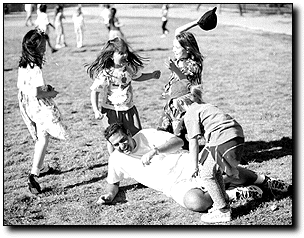 Adam F. Jarrold
Arizona Daily Wildcat

Jeff Shemano, media arts freshman and Zeta Beta Tau fraternity member, is playfully mauled by students from Blenman Elementary School Tuesday on Blenman's playground.


Zeta Beta Tau is known on campus as the most recent fraternity to be stripped of UA recognition, but to the children at Blenman Elementary School, it is the bearer of games and good times.

The school's broad green soccer field Tuesday was dotted with children dribbling soccer balls around ZBT members.

Pausing from a heated game, fifth-grader Jason Chlowitz, 11, said he liked playing with students more than twice his size.

"I like them because they play right, they know the rules and they pass the ball," he said.

It was the first day of ZBT's sports camp, an after-school program held at Blenman each Tuesday.

"We feel it's very important that we give back to Tucson," said Jeff Fields, vice president of ZBT's University of Arizona chapter. "There's more to fraternities than just parties."

And there are more ways to have fun, he added.

"We just want to show that not all people are bad and you can have fun in life," Fields said.

The commitment is for four weeks, said Bobbe Woods, principal of Blenman, 1695 N. Country Club Road.

"I'm counting on this going on - it's a four week program," she said.

Political science freshman and fraternity member Aytan Dahukey was surprised to hear that.

"It's for more than one day?" he asked. "But however long we're going to do it, it'll be fine - I love these kids."

Fields, who approached Woods about allowing ZBT to volunteer, said he was inspired by Project Shine, an after-school volunteer program staffed by UA volunteers.

Project Shine began last semester as a project initiated by two UA students, political science and economics sophomore Kaleen Love and education sophomore Shannon Aichele.

"It's a tutoring mentorship program coordinating the efforts of UA volunteers with teachers and classrooms and kids at Blenman," Love said. "We want to expand to help a lot of the local schools."

The two students garnered raves from Woods, who said she could not praise them enough.

"Those kids are terrific; our teachers love them," she said.

Woods added that she appreciated ZBT's efforts.

"They've made a real conscious attempt to work with the kids and be organized and I appreciate that," she said.