By Bryon Wells
Arizona Daily Wildcat March 30, 1998

Police: watch your back ... packs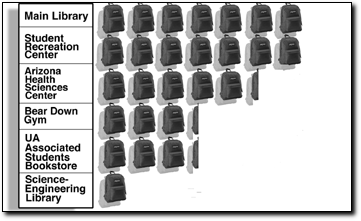 Arizona Daily Wildcat
Most common places for reported thefts from buildings open to the public in 1996. Each backback represents three stolen from the location. Source: University police reports.

Bookworms who leave their belongings unattended in campus libraries, even for a couple of minutes, are making thieves' work much easier, police say.
University police Detective Cpl. Jose Sprigg said the large population and size of rooms in buildings such as the Main and Science-Engineering libraries provide an excellent environment for crooks looking for an easy score.
"A lot of the suspects are not holding down jobs and are looking for crimes of opportunity - leave your backpacks, there's your opportunity," he said.
Sprigg added that most suspects in cases he comes across are non-students coming on campus, who, wearing backpacks, are able to walk in and mix with students using the library.
"They'll basically come in and shop around," he said.
A backpack left alone by students who use the restroom or look for a book is easy pickins' for these hijackers, who can swipe the goods, go to a corner to transfer the booty into their own bag, and leave in just minutes, Sprigg said.
Students report to university police not only $25 to $40 stolen backpacks, but other valuables like $300 cellular phones, credit cards, pagers and cash kept in their bags.
In 1996, 205 thefts that occurred in buildings open to the public were reported to university police.
Sprigg said the best thing to deter theft is to keep belongings close by or ask another student to watch possessions, even if they are just left for a short time.
He added that suspects often try to sell stolen textbooks back to the UA Associated Students Bookstore.
Bookstore employee Johnny Young said students reporting stolen textbooks to police should also call the bookstore's book buy-back department.
There is a better chance book bandits will get caught if the text they are trying to sell back has been reported stolen, Young said.
Marlene Alegria, a library supervisor, said libraries do not have security guards walking the rounds.
The library employs student monitors who stand watch at the buildings' front desks. Their job is to watch for people who trip the alarms while trying to leave with books they did not check out.
University police Cmdr. Brian Seastone said backpack thefts may have increased because the Main Library extended its hours.
He added that officers sometimes check different floors of the libraries for suspicious activity, but not frequently enough to deter swindlers.
"This is a crime people can prevent by not leaving their things unattended," Seastone said.