By Michael Isaac Jacobs
Arizona Daily Wildcat March 30, 1998

Men's tennis team fails in final homestand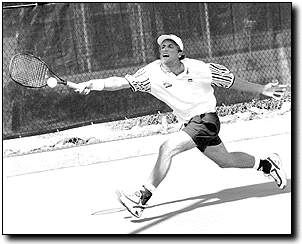 Ian Mayer
Arizona Daily Wildcat
UA senior Roland Kupka lunges for a ball during Friday's match against Stanford at the Robson Tennis Center. Stanford overwhelmed the Wildcats by a 7-0 margin.

Stanford and California are party crashers.
The weekend's final home matches for UA's men's tennis team at the Robson Tennis Center this season dissolved when the clock struck 12.
Friday, the Cardinal arrived with a top seed and a mind-boggling streak of wins. Stanford had only lost one point in one match all season long.
And the Crimson red tide didn't waver as No. 47 Arizona was swept 7-0.
"We have a really experienced team this year," Stanford coach Dick Gould said. "We got a good start 30 years ago and have continued the tradition ever since."
Gould has coached tennis for the last 33 years and has groomed players such as John McEnroe and David Wheaton.
Freshman Mike Huss was the only singles player to last three sets before falling to Charlie Hoeveler of Stanford 5-7, 6-4, 6-4.
"We expected to go out and have fun today," Huss said. "I felt great out there and I feel better every time I play, but it wasn't discouraging out there today because you have to play better competition to improve."
Senior and captain Jerome Oliveri wasn't surprised at Stanford's dominance.
"They're used to playing in professional tournaments, so when they come back and play college guys there's a big gap," Oliveri said.
However, even though the Wildcats were shut down, most of the matches were close.
"You guys have a good team this year," Gould said. "If you take the doubles away, then all of a sudden it's a different game."
Saturday, the Golden Bears dimmed the lights on the men's home season with a 5-2 black-out.
No. 30 California took two out of three doubles matches to claim the day's first point, and then won four of six singles matches.
Sophomore Michel Stopa, at the No. 3 position, and senior Mike MacKay, at No. 4, garnered victories for Arizona.
UA senior Roland Kupka and Huss roared past Adrian Barnes and Scott Kintz with an 8-2 victory.
"The doubles teams were all very good, and it came down to who could play with the wind," Huss said.
"The doubles matches were very close and a couple of points could have made the difference."
MacKay and junior Adnan Novo were edged 8-6 by Minh Le and Eric Dmytruk.
The two losses drop the Wildcats to 4-8 on the season, which includes a 1-6 record in the Pacific 10 Conference.