By Angela Romano
Arizona Daily Wildcat March 31, 1998

UA grad schools score high in online rankings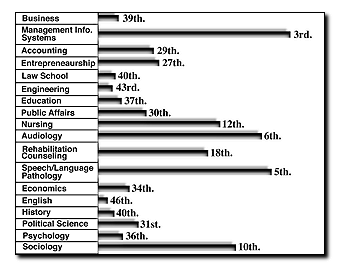 Graduate schools at the UA are among the country's best, according to the March edition of "U.S. News Online," but many administrators say they do not think the rankings have much effect on students or the departments.
University of Arizona's management information systems graduate program ranked third, speech/language pathology placed fifth, audiology was sixth and sociology was 10th.
Other high-ranking programs included nursing, which was ranked 12th, accounting, which was 29th, entrepreneurship at 27th and the Business College, which placed 40th. A total of 18 UA programs were ranked in "U.S. News Online."
U.S. News and World Report ranked the graduate schools based on statistical data and reputation.
Psychology Department Head Lynn Nadel said there is an unofficial nationwide boycott of the rankings because the methods used to arrive at them were not scientific.
"There is nothing wrong with rankings," said Vern Johnson, associate dean of the College of Engineering and Mines. "The only problem is that people are only interested in first place."
Johnson disagreed with some criteria U.S. News and World Report used to rank the schools. He said a school gets more points for having a lower acceptance rate if it turns down more students, Johnson said.
"But the question is, would you rather have more students or higher rankings?" Johnson said.
The ranking system can be misleading because there is no scale set to rank colleges across the nation, Johnson said. He said those who read the "U.S. News Online" scores may get the impression that criteria were completely fair.
"Rankings like this have no bearing on students' decisions to come to the UA," said Maria Velez, associate dean of the Graduate College.
She said students look at rankings that rely more on academics than rankings in U.S. News and World Report..
"It looks like there were a few renowned programs not included, such as anthropology, applied mathematics, philosophy, lunar and planetary sciences, astronomy, and optical sciences," Velez said.
One student said the rankings would be a factor in his college choice.
"It (the rankings) would definitely have an effect in where I would go to graduate school, because companies recruiting potential employers coming out of graduate school look at the rankings, so why wouldn't I?" said Jared Levy, an undeclared sophomore.
The U.S. News Online rankings can be found at http://www.usnews.com/usnews/edu/beyond/bcrank.htm.