By Dave Paiz
Arizona Daily Wildcat April 1, 1998

UA scientist wins award for Pathfinder Imager photography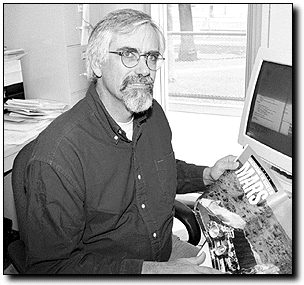 Tanith L. Balaban
Arizona Daily Wildcat

Peter Smith of the Lunar and Planetary Lab holds a copy of Time magazine that features the picture that won him an award from Life magazine. Smith, the camera designer for the Mars Pathfinder, received the 1998 Alfred Eisenstaedt Award for the best science photography.


The UA-designed Imager for Mars Pathfinder opened its eyes last summer to a new age in space exploration.

The history-making pictures taken in an ancient Martian flood channel called Aris Vales quickly made newspaper and magazine headlines all over the world.

Last week Peter Smith, the camera's designer and UA Lunar and Planetary Laboratory research scientist, received the 1998 Alfred Eisenstaedt Award for best science photography at a lavish ceremony held in New York.

"It's right that there are people that recognize this picture," Smith said. "It's not so much me that they recognize, but I think it's something about the pictures that gives a sense of possibility."

The awards are named in honor of Life magazine photojournalist Alfred "Eisie" Eisenstaedt, who died in 1995 at the age of 96.

Smith accepted the award on behalf of the University of Arizona, NASA and NASA's Jet Propulsion Lab in Pasadena, Calif., which managed the Pathfinder mission.

"I told them (at the ceremony) that the pictures are significant to the new generation that wasn't around when the Viking was on Mars, because it shows possibilities that we're potentially a multi-planet species," Smith said.

Smith received an undergraduate degree in physics from Berkeley in 1969 and began his career working on space instruments.

"After a few years I realized I just didn't know enough to build the kind of instruments I wanted to build, so I went back to school," Smith said.

Smith obtained a master's degree in optical sciences at the UA in 1977, and joined the UA staff in 1978.

Throughout the 1980s, Smith worked on a number of aerospace projects designed to gather information on the atmospheres of various planets.

It wasn't until 1989, when Smith proposed to build a camera to go to the surface of Titan, one of Saturn's moons, that he became involved with large-scale project contracts and budgets.

Smith said making the move from designing instruments to writing multi-million dollar project proposals was initially somewhat intimidating.

"It's a whole different world of aerospace - they speak a different language, they think a different way," Smith said.

When he drafted the original proposal for the Imager for Mars Pathfinder in January 1993, Smith faced formidable competition from two other designs.

"These guys were both well-published Mars authors who had written all kinds of scientific papers," Smith said. "I came in, without a Ph.D., never written a single paper on Mars, never been the head of a camera or any instrument project - and I beat these guys."

Smith's design for the imager called for two lenses positioned horizontally - the same way human eyes are. The camera also included special lens filters to allow scientists to study the composition and behavior of Mars' hazy atmosphere.

"We gave them a lot of science and a lot of heritage, because what I did was rip the guts out of our Titan camera," Smith said."We had a lot of the parts that were developed for the Cassini program that were available for this program at no extra cost already finished."

"What we had to design and build from scratch wasn't as much as some of the other people," he added.

Smith said the imager's combination of design features and reduced costs was an irresistible package that gave his proposal a decisive edge over the competition.

Although Smith is still analyzing the data from Pathfinder, he is already gearing up for the next phase of NASA's Mars missions.

The Mars Polar Lander will touch down on Mars' south pole in December 1999. While the Pathfinder mission focused on features above the surface, Smith said the polar lander mission will use a UA-designed imager and robotic arm camera to find out what's beneath the surface.

"We've got a lot of exploring to do on Mars," Smith said. "It'd be great if we could find some way to get people up there with some four-wheel drive vehicles and get out there and look around a little bit.

"It's really unfolding as the technology becomes available. We just can't resist going out there and finding what's there - it's just our nature," he added.