By Chris Jackson
Arizona Daily Wildcat April 1, 1998

UA's DeRenne closes in on freshmen records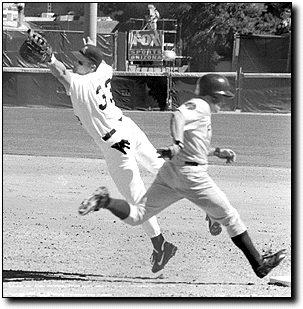 Dan Hoffman
Arizona Daily Wildcat
UA senior first baseman Kenny Corley (33) lunges for an out at first during the Wildcats' game against California Feb. 28. The Golden Bears hold the worst record in the Six-Pac, at 0-12.
Arizona freshman shortstop Keoni DeRenne has put up some impressive numbers so far this season. The question is, how impressive?
Comparing DeRenne to other Wildcat freshmen who were full-time starters, he comes off rather well.
DeRenne is batting .361 with five home runs and 38 RBI. The average is behind only two other past rookies, Dave Page's .374 in 1981 and Willie Morales' .371 in 1991.
DeRenne is two home runs short of the freshman record shared by Damon Mashore (1989) and Dave Lantrip (1988). The RBI total is only seven behind Mashore's mark.
He is also second in runs scored with 50, putting him 14 behind Mashore, and his 92 total bases rank third behind Mashore (129) and Greg Fowble (101 in 1987).
DeRenne still has at least 18 games to play until his freshman season is over.
Futility, thy name is California.
In pursuit of yet another ignominious record, the California Golden Bears have started the Pacific 10 Conference Southern Division season at 0-12.
The question is, can the Bears win even one game this year?
Cal holds the records for the worst two seasons in Six-Pac history, having gone 3-27 in 1990 and 4-26 last year.
This year's Bears have disaster written all over them.
Their best pitcher, Rob Henkel, is out for the year.
Their team ERA is 5.94.
They have a miserable .948 fielding percentage and 64 errors.
Their entire season may have been summed up in a single game against Arizona State March 22 when the Bears, despite taking a 6-3 lead into the bottom of the ninth, blew the game, losing 7-6.
There may be some hope for Cal, as fifth place UCLA (5-11 Six-Pac, 11-20 overall) is next up on the schedule.
Of course the Bruins did sweep the Bears in three games in Berkeley, Calif., earlier this year.
Want a big series for the weekend?
How does top-ranked Stanford (7-2, 21-3-1) at second-ranked Southern Cal (12-2, 26-5) sound?
First place in the Six-Pac, and the country, are on the line in Los Angeles.
The Cardinal comes off its second sweep of UCLA on the season, while the Trojans swept Cal.Stanford's only two losses were at Arizona State and at home against Arizona.
Southern Cal also lost at home to Arizona and once on the road at UCLA.
Arizona vs. ASU
Meanwhile, this weekend's series between Arizona and Arizona State will feature a showdown between two of the Six-Pac's best shortstops.
DeRenne will face off with Sun Devil sophomore Willie Bloomquist, who's hitting .411 with two home runs, 32 RBI and has 20 stolen bases.
Both players will have one unique set of eyes watching their every play.
Those eyes belong to Mississippi State head coach Ron Polk, who also happens to be the head coach of the USA Baseball national team.
Polk will be on hand for the first time this season to see both DeRenne and Bloomquist, who have both been invited to camp with the national team this summer.
"Nobody's a lock right now," Polk said of the 16 players who have been invited so far.
Pacific 10 Conference Baseball Standings
Southern Division
Six-Pac/Overall
Southern Cal 12-2 26-5-0

Stanford 7-2 21-3-1

Arizona State 8-6 21-12-0

Arizona 7-8 25-13-0

UCLA 5-11 11-20-0

California 0-13 12-18-1
Northern Division
Pac-North/Overall
Washington 4-0 16-7-0

Washington St. 2-1 11-11-0

Oregon State 1-2 15-7-1

Portland State 0-4 8-14-0