By Bradford J. Senning
Arizona Daily Wildcat April 2, 1998

Poetry, man, it's for the people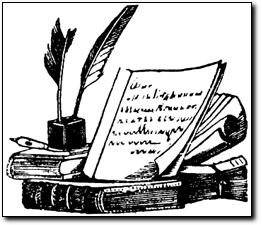 Poets are always craving attention.
They can't just sit around in their wrinkled pants and make poems for themselves, but have to meet with friends and read poems out loud or pin them in a rapture to some prospective lover's door. Or they need a month declared in their honor.
In 1996, April was declared National Poetry Month. Each April since then journalists have been reminding the American public of what T.S. Eliot wrote in 1922: "April is the cruelest month." Given this peculiar outlook on April it is surprising that April has proven to be a kind month for bookstores that stock up on poetry.
Barnes & Noble reported an increase in poetry sales of 25 percent in the month of April, 1997. Borders experienced a 35 percent increase. And the UCLA bookstore had a boost of sales in the 600 percent range.
Even more interesting than these published sales figures are the poetry events that spring up across the nation and the inventive methods used to disseminate poetry. Last year thousands of copies of T.S. Eliot's "The Waste Land" were distributed at post offices on April 15, the day taxes are due, which poet David Lehman calls "the cruelest day of all."
The spirit of this new trend to make poetry more publicized was initiated by Joseph Brodsky, who served as Poet Laureate from 1991 to 1992. It was his belief that poetry should be made available to a wider audience. He suggested that the government should subsidize the publication of an anthology of American poetry "to be sold door to door or in drug-stores, to be placed in motel rooms next to the Gideon Bible."
This is a pretty romantic aspiration, but that's one of the beauties of American poetry - its creators have a great deal of faith in the American people. Poets believe that you, the reading public, would really like poetry if only you could get your hands on it. Walt Whitman believed that his success as a poet depended on how many people read his poetry. He wrote in his 1855 preface to Leaves of Grass, "The proof of a poet is that his country absorbs him as affectionately as he has absorbed it."
Whitman also believed that books of poetry (especially his own) deserved a place next to the Bible. Perhaps this correlation is responsible for poetry becoming a literature preferred only by the minority of people who still retain some faith in it.
I remember standing for a while in front of Picasso's "Nude Woman" at the National Gallery. I listened to the people as they walked by complaining of not "getting" cubism. They were not dismissing the painting itself, but doubting their own ability to ascertain its meaning, which shows that people should have more faith in their intellect.
There is a sacred trust between an artist and the public that some element of the work is appreciable without having to study the artist's philosophy. Ezra Pound, despite the fact that he wrote his Cantos in 12 languages, was strict about its musical effects. The poetry of William Carlos Williams is often at the opposite extreme. His poem, "The Red Wheelbarrow," is so simple it almost seems like he is trying to put one over on his readers. But the simplicity of his poetry is what should be appreciated; his aesthetic is a reaction to T.S. Eliot, who, like Ezra Pound, is fond of being global with language, obscuring sense for the benefit of music.
Around the time he painted his masterpiece, "Starry Night," Vincent Van Gogh was reading Walt Whitman. In a letter, he wrote of Whitman, "He sees into the future, and even in the present, a world of health, carnal love, strong and frank - of friendship - of work - under the great starlit vault of heaven a something which after all one can only call God."
Van Gogh, who did not have the sense to keep from sucking the lead-based paints off the hairs of his brush, or the sense to know that ears are best left attached to the head, was still able to comprehend exciting qualities of Whitman's poetry.
Poetry is available to the general public now more than ever. Roughly 1,200 volumes of poetry are published annually. You have a wide selection to choose from and the only contemporary poet most of you have heard of is Maya Angelou. Since it is National Poetry month, go buy an anthology. Flip through it in no particular order. You will find something you like. Take these evocative lines from The Best American Poetry 1997:
"After I saw him, when a wish moved in my pants, I nurtured it." - Catie Rosemurgy
"If you were my wife, I'd be your lover because the church is firmly against divorce." - Joseph Brodsky
"What might have been still waited for its chance." - Mark Strand
Or consult the masters. You may find T.S. Eliot fanatics at your local post-office, or used copies of William Carlos Williams at Bookman's. Longfellow isn't a very creative poet, but since he's family I'll mention him. Then there is the good, gray poet, Whitman. Find a copy of Leaves of Grass and read "Song of Myself" aloud among friends. It will take you about two hours but move you like no movie or earthquake can. His gentle footing, you'll discover, can make the flowers bloom: "The press of my foot to the earth springs a hundred affections."
Bradford J. Senning is a junior majoring in American literature and creative writing. His column, "The Emperor of Ice Cream," appears every Thursday.