By Scottie Bricker
Arizona Daily Wildcat April 3, 1998

Father Figure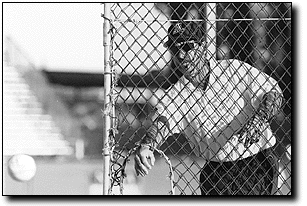 Charles C. Labenz
Arizona Daily Wildcat

Arizona softball head coach Mike Candrea pitches the ball to several team members in yesterday's practice at Hillenbrand Memorial Stadium. The Wildcats play UCLA today at home.


Throughout his 12-plus years at the helm of the Arizona softball program, head coach Mike Candrea has been an exemplary motivator, disciplinarian and manager of his players. His tactics are often imitated, but his success has never and may never be equaled or even challenged.

His teams have won five NCAA Championships, all in the last seven years, and have never had a losing record nor suffered a double-digit loss total since 1991.

He has been named coach of the year three times and coached two Honda player of the year winners.

But aside from the accolades given him and the hardware that surrounds him in his small, 15-foot-long by 15-foot-wide office, he has created an atmosphere in which his players can grow - not just as softball players - but as students and women as well.

"I am basically their father away from home," said Candrea, a graduate of Arizona State. "I accept that role and try to deal with it as best I can."

Judging by the responses and attention he gets from his team, it is a role he excels at.

Current and former players all agree Candrea is the man to go to whenever they have a problem, whether it be on the field or off.

"Coach is always going to be like a dad to us," said former Wildcat Susie Parra, who pitched for UA from 1991-1994.

Now an assistant coach at Cal State-Fullerton, Parra recalled times when Candrea would step in and right the wrong in his players' lives.

"Coach would be there in a minute when any one of us needed him," Parra said. "He is always there to set us straight."

"Respect is one of the biggest things coach preaches to us," said former player and current UA assistant coach Amy Chellevold. "He knows how to motivate and get the best out of his players."

This year, the task of motivating his team has been tricky with the addition of eight freshmen to the roster. Trying to figure out when to be aggressive and when to relax and be patient has been a test for Candrea.

"I think there are certain aspects of the game where I have to be caring but there is also a competitive side of me too," he said. "I'm used to winning and I know the only way we can get to where we need to be is through hard work and dedicating ourselves to playing our very best, so that's the other side of me you see."

His Jekyll-and-Hyde-like personality showed in an early-season incident with freshman Lindsay Collins during a game against Kansas.

While trying to score from first on a double to the alley in right-center field, Collins rounded second base and headed for third. Halfway to third, she looked at her coach, who coaches third base during the games, and saw him frantically waving his left arm and pointing toward home plate, signaling her to score. She lowered her head and kicked into high gear.

At almost the exact time she hit third base, Candrea changed his mind about sending Collins home and immediately held both hands up, the common signal for stop.

Collins, seemingly unaware of the stop sign because her head was down, kept on running and ended up scoring what would be the game-winning run.

Despite that fact, Candrea was disgusted with Collins for ignoring his instructions and consequently glared at her while teammates congratulated her as she entered the dugout.

Candrea instantly called Collins over to him and gave her an accusatory earful.

The practice of carefully criticizing his players is one Candrea feels is necessary to their development, especially after a victory.

"If you go and get beat I think everyone feels bad enough," Candrea said. "I don't think that's the time to jump on your kids. If you don't look at how you win, you'll never be a consistent winner. I expect us to play every pitch hard."

His lofty expectations carry over to his daily activities and commitment to his own responsibilities.

Candrea, his wife Sue and his two children, Mikel, 18, and Michelle, 16, reside in Casa Grande, some 70 miles north of Tucson. He makes the drive to and from campus every day, even if it means driving home at 3 a.m. after returning from a grueling night of traveling.

"My family is the most important thing to me in my life," Candrea said. "I make the drive because, if it allows me to spend three hours with my son and daughter and wife, then it is well worth it to me."

The drive, lacking all the scenery of a pass through the Rocky Mountains, could make even the sanest of men loony.

"The most amazing thing about him is in the 13 years he has been doing this, I have never heard him complain once," Sue Candrea said. "He is always there for anyone who needs him. Even if it is 4 in the morning and the phone rings, he will answer it and talk to whoever it is on the other line. He just won't put anyone off."

Whether it be a current or former player, friend of the family or even an opposing coach, Candrea always has time for those around him.

"Mike has always made me feel like I could call him if I ever needed anything," UCLA head coach Sue Enquist said. "He has always made himself available to me.

"I have been in the sport for 19 years and he is such a professional. I can honestly say I enjoy competing against Mike and his teams."

His squad this year has all the components of a champion and will be tested mightily in the next five days with pairs of games against UCLA, Washington and Fresno State.

After the weekend, there seems to be nothing between the Wildcats and another trip to the winner's circle of the College World Series, that is, if their father and coach has anything to say about it.
Mike Candrea File
Has already earned 12 conference, regional or national coach of the year awards in his 12 seasons as Arizona's softball coach

Led UA to five NCAA titles since 1991

Three 60-plus win seasons at UA

Current UA career record of 663-141

Inducted into National Fastpitch Coaches Association Hall of Fame in 1996