By Arlie Rahn
Arizona Daily Wildcat April 3, 1998

Gymcats look to make noise at regionals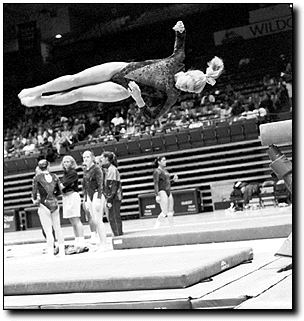 Ian Mayer
Arizona Daily Wildcat

Senior Gymcat Tenli Poggemeyer dismounts off the beam in a meet earlier this season. Poggemeyer and the rest of the Wildcats head up to ASU for the Midwest Regionals on Saturday.


The UA gymnastics team's season hopes will be on the line when the Wildcats head to Tempe for the Midwest Regionals on Saturday.

No. 22 Arizona will face top-ranked Utah, ninth-ranked Arizona State, No. 10 Nebraska, No. 11 Brigham Young, No. 25 Utah State and Oklahoma.

"We have been working real hard and I think we will show everybody what we've got on Saturday," UA freshman Kara Fry said. "We are going to let everything out."

In Arizona's last trip to Tempe March 13, the Wildcats fell to the Sun Devils by a score of 196.050 to 193.400. Junior Kristin McDermott won the all around with a score of 39.075 with teammate Tenli Poggemeyer following in a close second at 39.050.

"I think the spring break really helped us come back with new focus for regionals," Poggemeyer said. "We have been looking good in practice and we are familiar with Tempe so I think we will do well."

After a week off, the Wildcats will receive a boost when senior All-Conference beam performer Nancy Milberger returns to the lineup. That, along with the steady play of fellow seniors Poggemeyer, Cami Banholzer and Rose McLaughlin, should help the Wildcats stay competitive against a tough field.

"We are as ready as we can be and our seniors should lead the way," UA assistant coach Bill Ryden said. "All we have been focusing on is being clean and perfecting our skills. At this point there's not much we can change.

"We just have to hope we stay injury-free. If we do, this team can do pretty well."