By Craig Anderson
Arizona Daily Wildcat April 6, 1998

Ancient Arizona Museum showcases Indian antiquity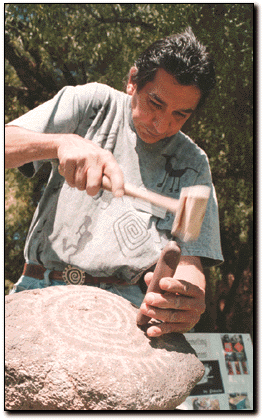 Leigh-Anne Brown
Arizona Daily Wildcat

Native American artist John Palacio demonstrates how Native Americans would make rock carvings.


For a moment, the warrior paused to admire the mammoth's unrefined beauty as it peacefully lumbered toward him. Almost sensing the beast's calm acceptance of its destiny, the young man took aim and swung his arm forward, releasing his spear in one smooth and violent motion.

According to anthropology senior Chris Corey, this was a common scene in Arizona until about 12,000 years ago.

Corey supervised spear-throwing at the Arizona State Museum's annual open house Saturday, coaching aspiring warriors as they threw foam rubber-padded spears at a plywood "mammoth."

Museum curator Alan Ferg said the focus of this year's open house, held from 9 a.m. to 5 p.m., was to demonstrate how Arizona Apaches lived in historic and prehistoric times.

Ferg said the state-owned museum, located on the University of Arizona campus' west side, has held an annual open house since the turn of the century.

"It gives the public an opportunity to come in and get a better idea of the things we do," he said. "The museum's key goals are preserving the culture of southwestern peoples, showing exhibits and conducting research."

One of the key features of this year's open house was the opening up of perishable artifact vaults to the general public, he said.

Ferg said artifacts made of leather, wicker, cloth, feathers - anything other than pottery or stone - are usually locked away to protect them from harm.

Apaches from San Carlos and Fort Apache were invited this year to show off their traditional dress, music, art and culture, he said.

Saturday's events included a San Carlos Apache cultural dress fashion show, an Apache basketmaking demonstration and lectures on the heritage of Can Carlos and White Mountain Apaches.

Artisans also demonstrated their talents, including petroglyph art, pottery and making arrowheads and traditional Apache musical instruments.

San Carlos Apache Chesley Wilson showed off fiddles and flutes he made, and played a recording of traditional Apache music.

"It takes a couple of months to make each fiddle," said Wilson, 65, an award-winning musician and storyteller.

"Still, it's better to play one you make yourself," he said. "That way, if the music sounds bad you can only blame it on your own work."