By Rachel Carasso
Arizona Daily Wildcat April 6, 1998

CCIT team working to avoid year-2000 problem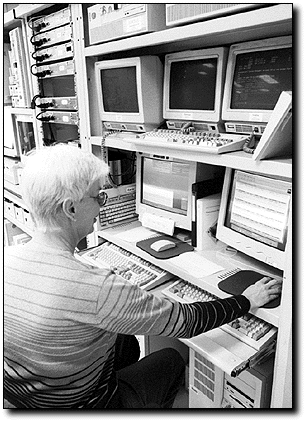 Ian Mayer
Arizona Daily Wildcat

Supervisor Jacqueline Dombrowski works at one of the many terminals in the machine room of CCIT yesterday afternoon. Many desktop systems and other in-house applications may need to be fixed or replaced in order to recognize the year 2000.


Most students have not thought about where they'll be when the clock strikes midnight on New Year's Eve 1999, but Team 2000 has been focused on that moment since 1994.

The team, a group of employees from the Center for Computing and Information Technology and other University of Arizona departments, has been working to make sure UA computers will recognize the Jan. 1, 2000 date when the ball drops.

If the UA does not correct the problem, class scheduling, financial aid, billing and university payroll will be drastically affected.

Bob Lancaster, project coordinator for Team 2000, said there is a worldwide effort to make computers year-2000 compliant. If computers are not programmed to read the last two digits of the year 2000 correctly, many potentially serious problems could occur.

Lancaster said businesses that rely on dated material sent through computers need to make sure there won't be a break in business in 2000.

"I believe we will see companies - especially financial companies - advertise that their systems are year-2000 compliant so consumers know their money is safe," Lancaster said. "It will be a great advantage."

Many computer systems, Lancaster said, will recognize the double zero as 1900. Some computers may even start over as Jan. 1, 1980 or 1984. This is what Team 2000 has been working to avoid.

Eight employees are working full time at CCIT to make UA computer systems year-2000 compliant. Other CCIT employees are also assisting with the project.

Team 2000 completed its project plan in December 1996 and presented it to then-UA President Manuel Pacheco in June. Team 2000 was subsequently allocated more than $1 million over three years to fix the problem.

Lancaster said UA's payroll system already has been made year-2000 compliant, and financial aid's fix is in the testing stages. Only the Student Information System - registration programs found through Student Link - has yet to be fixed, he said.

The SIS fix will involve more than 3 million lines of code and 750 programs, according to the UA's year-2000 project plan.

But students do not need to worry about their personal computers crashing in 2000, Lancaster said.

He said that even if students' computers do not read 2000 correctly, it will not affect computer usage.

"Unless students rely on dated information coming from their computer, they do not need to worry about it," Lancaster said.

CCIT, however, has created several Web sites that let students test their computers to see if they are year-2000 compliant and offer ways to correct the problem if they are not.

Students can learn how to check a computer for year-2000 compliance at http://computing.arizona.edu/year2000/mypc.html.

There are a variety of ways to fix the problem, Lancaster said. One is called "windowing," where computers are made to recognize the last two digits of the year and will keep all dates in a two-digit form.

The more correct way is to expand the year to four digits, but this requires more time. Lancaster said Windows '98 will probably be the first program to become year-2000 compliant.

Lancaster said Team 2000 members have also been helping university departments fix their own systems.

"We have had workshops for departments to ask questions concerning year-2000 compliance, because specific departments are more complicated," he said.