By Scottie Bricker
Arizona Daily Wildcat April 6, 1998

Wildcats split tearful doubleheader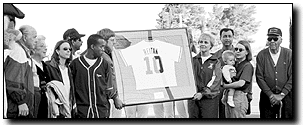 Brian Foster
Arizona Daily Wildcat

Members of Julie Reitan's family accept her retired jersey before Saturday's double header against Washington at Hillenbrand Stadium. The Wildcats lost the first game 9-0 and won the second 10-0.


Emotions flowed from the field at Hillenbrand Stadium Saturday night, proving there are clearly more important things in life to worry about than athletics.

The top-ranked Arizona softball team suffered a five-inning, 9-0 defeat at the hands of the Washington Huskies in the opening game of a doubleheader, as most of the Wildcats played with aching hearts and puffy eyes, swelled from emotional overload.

The Wildcats' (39-3 overall, 7-1 in the Pacific 10 Conference) emotions clearly were not directed toward softball in the opening contest after a pre-game jersey-retiring ceremony honoring teammate Julie Reitan, who passed away last summer from hypoglycemia.

"I think emotionally we were drained in that first game," Arizona head coach Mike Candrea said. "All of our girls were so touched by the ceremony and Washington came out and played great game."

In an example of the parity and balance in the conference, the Wildcats fought back in the nightcap behind the pitching of freshman Becky Lemke, who struck out seven in earning a five-inning 10-0 victory, her 13th of the season.

"I felt all this week like mentally I just needed to get out of the slump I was in," Lemke said. "And especially after the loss in the first game, I wanted to come out and win even more."

In the opener, Washington first baseman Eve Gaw clubbed two tape-measure home runs and drove in five runs as the Huskies (24-7, 5-3) gave Arizona senior pitcher Nancy Evans her first loss of the year.

Gaw's two homers, which easily cleared the left-center and center field wall in the first and fourth innings respectively, helped hand Arizona its first mercy-rule defeat since Pacific 10 Conference play started in 1988.

"This is what Pac-10 play is all about," Washington head coach Teresa Wilson said. "We are all just going to sit around and beat up on each other all year long and then go in and beat everyone in the tournament."

In the bottom of the third inning of the second game, McCutcheon singled and stole second. After Giordano walked, Arizona pulled off a double steal and, after an error by Giordano's sister, the Washington catcher, McCutcheon scored.

Mascarenas then ripped a line-drive single into center to drive in Giordano and Braatz followed with a rainbow drive over the wall in straight-away center field, her 15th home run of the season.

Arizona struck again in its next at-bat, putting four more runs on the board thanks to timely hitting and two Husky errors.

A double by Katie Swan and back-to-back by Lauren Bauer and McCutcheon led to a double by Mascarenas, accounting for her third RBI of the night.

In Friday's doubleheader sweep of the Bruins, the Wildcats cleaned house in the opener and struggled in the night cap for the second time in as many weekends.

Arizona used an 11-run first inning to put the first game to rest early behind wild UCLA pitching and a grand slam by senior catcher Leah Braatz.

The Wildcats went on to win the opener 16-3 and followed that up with a wild 11-9 victory in game two.

Arizona will host fourth-ranked Fresno State tomorrow in a pair of games beginning at 6 p.m.