By Kristen Davis and Craig Degel
Arizona Daily Wildcat April 6, 1998

Pro volleyball tour returns to Tucson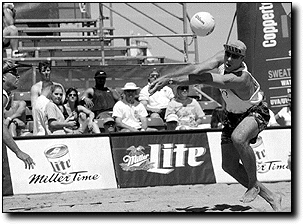 Nicholas Valenzuela
Arizona Daily Wildcat

Karch Kiraly lunges for an attack by the team of Dain Blanton and Eric Fonoimoana during the championship match at the $100,000 Miller Lite Open at Sportspark yesterday afternoon. Kiraly and his partner, Adam Johnson, won the title after a 15-5 defeat.


If the players on the AVP tour have anything to say about it, they'll be coming back to Tucson for many years to come.

"We really appreciate your support," Adam Johnson said to the crowd yesterday afternoon after he and partner Karch Kiraly took the $100,000 Miller Lite Open title at Sportspark. "We'll see you again next year."

The weather was gorgeous, the crowd - although not as big as tournament officials said they would have liked - was boisterous and the volleyball was exemplary.

"We had a great time. The weather was about perfect all weekend," Kiraly said. "It doesn't get any better than this. In fact, it's probably going to go downhill from here."

Kiraly and Johnson, who won four times together last year after each missed the first part of the season with injuries, had an easy afternoon in their 15-5 win over Dain Blanton and King of the Beach winner Eric Fonoimoana.

"It was really nice. We were excited to start the season healthy which last season we did not, obviously," Kiraly said.

Four side courts were assembled in addition to the 2,000-capacity stadium court. In all, 1,320 tons of sand was imported. A crowd of about 5,000 took in action over the course of the three-day event, which returned to Tucson for the first time since 1989.

"It's difficult to say," tour operations manger Jon Stevenson said when queried about the tour's return. "We need to draw better."

However, this was the tour's first full event of the season and, Stevenson said, the promotional staff was still busy scrambling to put together marketing plans for the season.

"It's a great site and the fans are great but there needs to be more publicity," Blanton said.

Those who came out the tournament - an estimated 1,500 passed through the gate yesterday - would have a difficult time not returning if the AVP makes Tucson a regular stop.

Announcers Jim Arico and Chris McGee held a cheering contest during a Saturday afternoon match in the stadium court. Each side chose a team to cheer for. Fans over 21 years old on the side whose team won received a Miller Lite draft.

"The problem is we blew our budget in one shot. Beer is like potato chips. You can't have just one," said Arico, who added about 120 free beers were distributed.

Kiraly and Johnson were even handed a can of Miller Lite with their championship trophy.

Besides Kiraly, Olympic medalist Mike Whitmarsh and Canyon Ceman made visits to selected booths to sign autographs throughout the weekend.

Fans did not need to wait in a long line for a signature, however since beach volleyball is known for its accessibility. Players often mingle around the venue in between matches or once they're knocked out of the competition.

Jose Loiola and Kent Steffes, the tour's top-ranked duo, were eliminated yesterday. As they walked to the parking lot, Loiola, last season's MVP, signed posters.

And, after an early afternoon win yesterday, Blanton and Fonoimoana let about a half dozen fans climb over the ropes to pose for pictures with them.

"Crowd participation is extremely important to our tour. We like a lot of interaction," Arico said. "This is the only (sport) where you get up close to the players."