By Chris Jackson
Arizona Daily Wildcat April 6, 1998

Wildcat baseball team drops 11th straight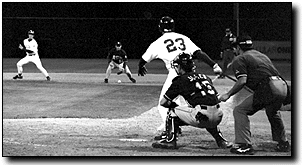 Matt Heistand
Arizona Daily Wildcat

Pitcher Tony Milo (23) hits a grounder to ASU's first baseman Saturday night at Frank Sancet Field. The Wildcats were routed by the Devils with a final score of 20-12.


When third baseman Erik Torres hit a shot between the legs of Arizona State pitcher Chuck Crumpton yesterday afternoon, there was a brief flicker of hope for the Arizona baseball team.

Hope that the Wildcats could pull out one win in the weekend series and end a 10-game losing streak.

A hope that was as brief as the remainder of the inning, as Crumpton shut down Arizona's last-gasp rally with two strikeouts en route to the No. 19 Sun Devils' (24-14 overall, 11-6 in the Pacific 10 Conference Southern Division) 12-4 win yesterday at Frank Sancet Field.

That victory, coupled with Friday's 4-3 comeback win and Saturday's 20-12 debacle, gave ASU the sweep and sent No. 24 Arizona (25-16, 7-11 Six-Pac) down for the 11th straight time.

UA head coach Jerry Stitt said "the tough thing is everyone's in a slump at once.î

Stitt's words spoke true, as Arizona struggled both in terms of offense and pitching throughout the series.

Yesterday's game saw ASU jump out to a 1-0 lead in the top of the first when left fielder Willie Bloomquist led off with a triple and then scored on a ground out. Arizona came back when shortstop Keoni DeRenne led off with a double in the bottom of the inning and scored on a single by first baseman Kenny Corley.

The tie was the best Arizona could manage.

ASU broke open the game in the top of the third, as right fielder Mikel Moreno led off with a solo home run, followed by four consecutive singles that gave the Sun Devils a 5-1 lead.

UA starter Tony Milo (7-2) was chased from the game in the fourth as ASU scored five runs on only two hits.

Corley provided the lone highlight in Saturday's loss, hitting a solo home run which tied him with Dave Shermet for first place all-time in career homers with 34. He has hit 10 this season.

Arizona will get a brief respite from the Six-Pac, playing Grand Canyon tomorrow at comes to town tomorrow night at 7 for one game. The Wildcats then travel to face UCLA for a three-game series starting Thursday.