By Craig Anderson
Arizona Daily Wildcat April 7, 1998

Likins takes blame in CatCard controversy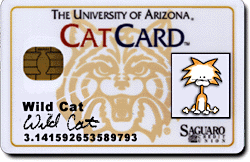 UA President Peter Likins told the Faculty Senate last night he is ultimately responsible for releasing student, staff and faculty Social Security numbers to two companies during implementation of the university's new ID card.

Likins owned up to his role in the privacy violation before the Senate discussed an April 10 forum to deal with student concerns about the controversial CatCard.

The forum will be held in the Tucson Room of the Memorial Student Union from noon to 2 p.m. and will be open to all students, staff and faculty.

"We made a dumb mistake," Likins told the Senate. "I take responsibility for failing to recognize it."

Likins said before he officially approved the new ID card, a "distressed individual" e-mailed him and said he did not want his Social Security number released to companies.

While the University of Arizona accommodated the request by issuing the person an identification number different from his Social Security number, Likins said the complaint did not alert him to the overall legal issue.

"I did know that, and it didn't ring any alarm bells in my head," he said. "It should have, but it didn't."

Officials said they released the numbers to Saguaro Credit Union and MCI Telecommunications Corp. in an effort to streamline the activation of some services tied to the UA's new CatCards.

Likins said he wishes he had discussed CatCard-related concerns with the Senate before giving his approval.

"We should have come to the Faculty Senate and said, 'Look, we have this problem,'" Likins said.

He said at least one senator probably would have recognized the illegality of disseminating Social Security numbers and brought it to his attention.

University officials have said it is likely the university violated state and federal laws by releasing the information.

Although there are some exceptions, the Family Education Rights and Privacy Act prohibits universities from releasing "personally identifiable information" without students' consent.

Still, Likins told senators it was unlikely any UA personnel would be reprimanded because the numbers have since been recalled and nobody was hurt.

"We have broken the law, but these are laws without sanctions," he said.

Likins said if the federally protected Social Security numbers had been abused, the UA would be liable.

But, he said, the numbers were returned before any damage was done.

Sen. Donald Myers, a mathematics professor, asked Likins how students, faculty and staff could be sure the two companies did not keep copies of the numbers.

"You have my word," Likins replied. "You'll have to decide what that's worth."

The Senate last night also named a committee to scrutinize how the UA deals with outside corporations. That move was prompted by concerns over a proposed deal between the athletic department and Nike.

The 11-member committee will include: three faculty senators; UA Attorney Michael Proctor; Dick Roberts, the UA's chief budget officer; Mike Low, director of UA trademarks and licensing; John Perrin, senior associate director of athletics; Students Against Sweatshops co-founder Monica Wilson; a marketing professor; a management information systems professor; and an Associated Students representative.

Wildcat reporter Angela Romano contributed to this report.