By Mary Fan
Arizona Daily Wildcat April 8, 1998

AIC draws over 450 applications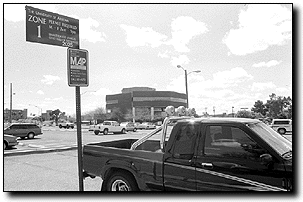 Nicholas Valenzuela
Arizona Daily Wildcat

The Zone One parking lot on the northeast corner of Cherry Avenue and Speedway Boulevard will have less spaces due to the temporary relocation of the Arizona International Campus. AIC is currently located at the UA Science and Technology Park on East Rita Road.


Applications to the UA's Arizona International Campus have nearly quadrupled since last year, giving administrators some extra ammunition in their quest for more money from the state Legislature.

Now nearing its third year of existence, AIC has drawn more than 450 applications thus far, exceeding the 65 applications it received its first year and the 125 applications received last year.

"And they're still coming in," said AIC Provost Celestino Fernández.

Fernández said the campus has asked the state for $2.8 million for next year, up from $2.1 million approved to accommodate this year's 106 students.

"We expect that the Legislature will take favorable action given the number of applications to date," he said.

That will help the college accommodate the influx of students, Fernández said.

"We can accept as many as qualify but we certainly need the budget to do that," he said.

The rise in applicants is attributed to the success of a three-pronged recruiting effort harnessing mass media advertising, aggressive admission counselors and a targeted approach, said Lucian Spataro, associate to the provost.

"We had to develop name recognition - that was key," he said.

In the past, when AIC nearly folded from low enrollment, the campus pursued one approach at a time, Spataro said.

"The tripling in applications comes from a more comprehensive approach - it has to do with a more well-rounded recruiting effort," Spataro said.

The campus dispatched aggressive admissions counselors to schools that fit AIC's profile of a challenging learning environment and individualized teaching, he said.

A flood of media advertising, including billboards and radio spots touting AIC as "the college that makes you" and "the best of both worlds," also had huge impact, Fernández said.

The price tag for the campaign - in excess of $200,000 - is more than modest when compared to that for other state colleges, said David Gnage, AIC's senior finance and administration officer.

"It's real cheap compared to what the UA spends," he said. "We used a very concentrated effort centered in Arizona."

And the advertising will be well worth it if the increase in applications nets more AIC student enrollment. Each time enrollment doubles, the college's operating cost per student is split in half, Spataro said.

Already, AIC's cost per student is 75 percent less than it was when the college opened, he said.

Such numbers, however, are not quelling the brewing protests from UA faculty who charge the college is failing at its mission.

"I think the college is still not a good idea - it hasn't really progressed the way it should," said history Professor Oscar Martinez, one of 27 UA faculty that signed a petition in the fall urging AIC be shut down.

Martinez said AIC was originally a project modeled after the state college system in California, which was set up to make school more accessible to low-income groups and minorities. Martinez charged AIC with failing in that purpose.

"It winds up as a publicly-funded college, yet it's only accessible to a small portion of students in Arizona," he said.

That is not a fair use of funds, Martinez said.

"The Legislature is extremely stingy and what I see is the resources are going to be scattered and in short supply and everybody's education diluted as result," he said.

AIC administrators, however, look to the boom in applicants as a positive sign that one day AIC will be an independent alternative to the state's three universities. They also believe the branch campus will help the universities accommodate the projected 60 percent surge in high school students that could overwhelm Arizona's university system in the next 10 years.

"We wanted to create a smaller college - an alternative to the larger university and the community colleges," Fernández said. "We will also help meet the dramatic enrollment growth in our state that the existing universities can't meet."