By David J. Cieslak
Arizona Daily Wildcat April 8, 1998

New ASUA executives implementing own policies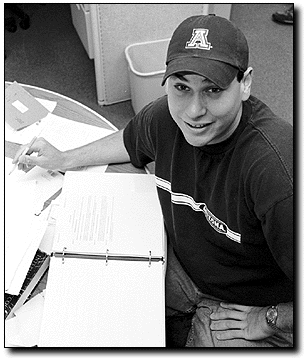 Katherine K. Gardiner
Arizona Daily Wildcat

Cisco Aguilar, ASUA executive vice president-elect, wants to see the executive vice president's chief of staff position eliminated. The stipend allocated for the position would go to help pay for three more club advocates.


Winds of change are blowing in the ASUA as two newly elected executives piece together plans to shake things up by adding three positions and eliminating another.

One executive, Administrative Vice President-elect Ryan Rosensteel, will have Sen. Cisco Aguilar present Rosensteel's ideas to the Associated Students Senate tonight at 6 p.m. in the Memorial Student Union Tucson Room.

Rosensteel has a prior commitment and will not be at the meeting, but said he wants to take some responsibility for programs like the Big Event and the ASUA/Residence Hall Association Basketball League away from the Senate by creating a new program called "community development."

"These used to be ongoing Senate projects," said Rosensteel, an ASUA club advocate. "We want senators to create new programs."

The new program would take charge of Project Volunteer and all other community service activities ASUA organizes for students at the University of Arizona.

Sen. Mary Peterson said she supports the idea in general, but is concerned about current senators' opinions. Sen. Morgan Long headed the Basketball League this year and Sen. Summer Katzenbach was in charge of the Big Event, an annual community clean-up program.

"It will require some discussion to see how they feel about it," Peterson said.

Other changes Rosensteel is pushing for include adjustments in ASUA's bylaws, such as switching executive budgets from their old, itemized format to a lump-sum style that would prevent rollover into the next year.

"It's absolutely ridiculous," Rosensteel said. "When there's thousands of dollars left over, you obviously didn't plan your events as well as you should have."

Aguilar, next year's executive vice president, also will present his own plans for discussion. One of his ideas that has raised some ASUA officials' eyebrows is a proposal to increase the number of club advocates from three to six and eliminate the executive vice president's chief of staff position, created in April 1997 and currently held by Mary Brandenberger.

Rosensteel said the executive vice president can and should fulfill the chief of staff's responsibilities and should also chair ASUA's Appropriations Board, a duty Sen. Leslie Hunter has handled since August.

Aguilar wants to use the $1,500 stipend Brandenberger receives as chief of staff to help pay for the three more club advocates. Under his plan, the club advocates would be paid $800 stipends each. The position currently pays $1,000 per year.

Aguilar said his plan will be difficult to implement because it requires a change in ASUA's constitution, an act which mandates a majority Senate vote.

And some in ASUA have wondered if six club advocates are too many, leaving the additional three with nothing to do.

While ASUA President-elect Tara Taylor said she does not think three club advocates serve clubs efficiently enough, she's unsure about the increase.

"I am a little hesitant about going all the way to six right now because I want to make sure there's things for each of them to do," said Taylor, the current administrative vice president.

Peterson said she thinks Aguilar's idea will make positive changes to the old format, adding that there are more than 300 clubs on campus - making six club advocates responsible for 50 clubs each if the increase passes.

"We have so many clubs on campus that if the advocates make the effort, there's plenty to do," she said.