By Angela Romano
Arizona Daily Wildcat April 9, 1998

UA released keys to personal info.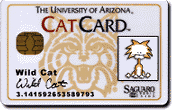 University officials quickly retrieved the nearly 50,000 student, staff and faculty Social Security numbers they released to two companies last month in an effort to streamline the implementation of UA's new identification card.

But privacy advocates say there is a greater concern: The University of Arizona released more than just the nine-digit numbers - it released the keys to students' and employees' personal information.

According to the American Civil Liberties Union Web site, Social Security numbers are a "virtual pass key" to a host of private and often sensitive information, including a person's address, household income, credit history, shopping preferences - even use of prescription drugs.

The UA gave the Social Security numbers to Saguaro Credit Union and MCI Telecommunications Corp. as identification numbers that would make it easier to open accounts with those companies.

Students and staff complained, saying the information release was an invasion of privacy and an inappropriate use of Social Security numbers. University officials said it is likely the university violated state and federal law by releasing the information.

According to a 1996 report by a committee at Loyola University in Chicago that investigated that university's use of Social Security numbers, a Social Security number in the wrong hands can "wreck havoc with our personal lives, with the very least being an intrusion into our own privacy."

The Security Awareness and Ethics Committee at Loyola recommended the university carefully examine the use of Social Security numbers on posted grade listings, class rosters and other commonly disseminated paperwork.

In the past, criminals have used Social Security numbers to assume alter-identities and access other people's bank accounts, charge cards, government benefits and tax records.

According to a 1997 audit obtained by the Associated Press this week, a government investigator was able to get confidential tax payer records of prominent people, including a mayor and a sports announcer, by providing the Internal Revenue Service little more than their names and addresses.

And in a Redding, Calif., case, someone stole a man's identity off the Internet, opened bank accounts and charge cards in his name and ran up $35,000 in bills.

Loyola has since started to develop a new system that will generate and assign unique personal identification numbers to students.

UA has varied use of Social Security numbers

The University of Arizona has not always used Social Security numbers as student identification numbers. It switched from randomly assigned numbers during the development of the Student Information Systems database in the late 1980s, UA Registrar Jack Farrell said.

SIS, a database that contains student information for the Financial Aid, Bursar's, Admissions and Registrar's offices, is based on nine-digit student identification numbers that are usually the same as students' Social Security numbers.

Students are not required to use their Social Security numbers as identification numbers, but many do, and incompatibilities within SIS make it necessary in some situations.

The problem with using a "dummy number" arises when students are employed at the UA or receive financial aid, in which cases they must use their Social Security number for tax purposes, Farrell said.

SIS is not able to link a random ID number to a Social Security number kept on file for tax purposes, so the Social Security number becomes the ID number, said Mary Salgado, an applications systems analyst in the Registrar's Office.

Instructions on UA admissions applications state that the UA "prefers to use your Social Security number as your official identification number. For general record-keeping, however, your Social Security number is not required."

The application does state that federal law requires a student to disclose her Social Security number for financial aid purposes.

Students often are unaware that they are not required to use their Social Security number as a student identification number, said admissions counselor David Goldberg.

But student employees, which many students rely on for answers to their admissions questions, sometimes give conflicting information.

Last week, a student working at the front desk in the Undergraduate Admissions Office said randomly assigned identification numbers can pose a problem for students when they register for classes.

"Even if students use a randomly generated number, the university will eventually switch your student identification number to your Social Security number," said Lillian Quintero, an admissions office student staff member.

But Goldberg said, "That is not true. If a student doesn't want to use their Social Security number, it is easy to get around it."

UA aiming for an answer

UA attorney Mike Proctor said the university is working on a system to move away from the use of Social Security numbers as student ID numbers and keep Social Security numbers for payroll and financial aid separate from the rest of the system, but that project has not yet been funded.

Attorneys in the university's legal office have told administrators many times about privacy concerns regarding the use of Social Security numbers, Proctor said.

Proctor said the CatCard, which has an ISO account number on its face rather than a student identification number, is a big step in moving away from the Social Security number as a student identification number.

To keep Social Security numbers away from the wrong hands, "use caution when giving out your Social Security number to a government agency," the ACLU states in its Web site. "They are required by the Privacy Act of 1974 to tell you why your Social Security number is necessary, whether giving out your number is mandatory or voluntary, and how it will be used."