By Nate Byerley
Arizona Daily Wildcat April 14, 1998

Staff recognition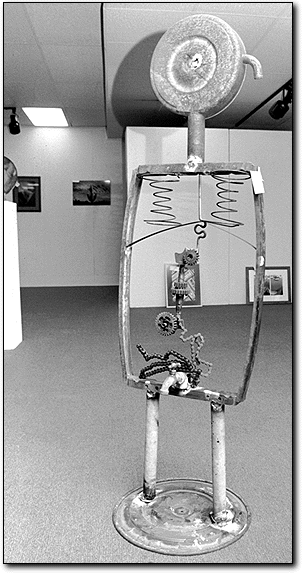 Nicholas Valenzuela
Arizona Daily Wildcat

The sculpture "Peeeee Nut," by Marjan MacPhee, will be on display at the Memorial Student Union Gallery starting tomorrow as part of the UA staff art exhibition. The Union Gallery show, entitled "On Our Own Time" will run through April 23.


With faculty and student exhibits gracing almost every gallery on campus right now, one might be content to think that the university is providing ample opportunities for university affiliates to showcase their work. That would be overlooking one important group however - the University of Arizona staff. Abby Rankin, an employee of the financial aid department, realized this back in 1993 and as a result she created the now-annual Staff Art Exhibition, which has been growing in scope ever since.

The show, entitled "On Our Own Time," is open only to University staff members and includes "ceramics, oils, acrylics, photographs, [and] weaving," according to Leticia Green, art student and volunteer at "On Our Own Time." Green explained that the work represented at this show "covers the whole art spectrum."

While the pieces span a variety of media, the subject matter is not quite as diverse. A good fraction of the work is western art, characterized by the burly busts of cowboys or coyotes. Many of the pieces which aren't western are serene representations of flowers, landscapes, or flowered landscapes. As you might expect, this underlying similarity in subject matter makes several different pieces scream for attention.

The first objects to really catch the eye are two small bronze sculptures by Joe Mussulina. These little characters look like strange apparitions from Tim Burton's "Beetlejuice," but their title, "Bosch Bookends," indicates a slightly more historical inspiration. The painting "The Garden of Earthly Delights," by 16th century Flemish painter Hieronymous Bosch depicts the fall of man through the use of symbolism and otherwordly, often nightmarish creatures, two of which Mussulina recreates in three-dimensions. The delicate touch in craftsmanship, and the twisted forms of these two bookends are well worth experiencing.

Marjan MacPhee's sculpture, bearing the name "Peeeee Nut," incorporates found metal objects (faucets, bicycle chains, springs and circuit boards) into a figurative sculpture with a pronounced, not to mention rusted, digestive system. The work raises some interesting questions about the representation of human anatomy, but what is more striking is MacPhee's use of recycled materials as a medium. "I find most of the stuff behind the Civil Engineering building," said MacPhee, who also enjoys spending time in old junkyards searching for artistic inspiration. Her sculpture seems a ponderous artifact amid many bright, but basic, paintings.

In addition to the artwork, the incorporation of staff musicians into last year's exhibit will be expanded this year to include musical performances on the mall. Tod Gregoire, of the agricultural administration staff, can be found playing the bagpipes on the mall today shortly before noon. After Gregoire, the faculty/staff chorus will perform several vocal numbers. The Psychic Friends, a local band that includes Jeff Rosen of the Main Library staff, will also offer up rock and roll tunes for lunching mall rats.

"On Our Own Time" opens tomorrow, and will run in the Union Gallery of the Memorial Student Union until Thursday April 23. The objective of this exhibit, according to Leticia Green, is to demonstrate that "university employees are not only talented in their jobs, but in other areas as well."