By David J. Cieslak
Arizona Daily Wildcat April 15, 1998

Kolbe calls FERPA's language ambiguous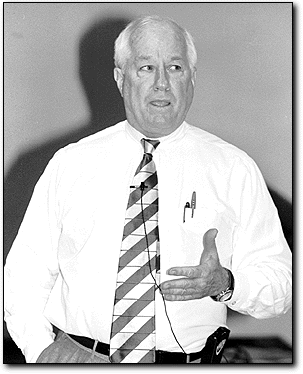 Ryan A. Mihalyi
Arizona Daily Wildcat

Rep. Jim Kolbe, R-Ariz., answers students' questions yesterday during the ASUA-sponsored forum in the Arizona Ballroom.


Responding to student concerns over the UA's CatCard, U.S. Rep. Jim Kolbe, R-Ariz., said at a campus town hall meeting yesterday that he will try to clarify federal privacy regulations.

Addressing everything from federal student loans to the University of Arizona's CatCard troubles, Kolbe spoke to a group of about 45 students, faculty and staff at the Associated Students-sponsored meeting in the Memorial Student Union Arizona Ballroom.

Terrence Bressi, the Lunar and Planetary Lab engineer who began protesting the CatCard last month, told Kolbe the Department of Education has issued broad interpretations of the Family Educational Rights and Privacy Act that opened the doors for universities to release student information to companies with which they do business.

Bressi discovered the UA released student and employee Social Security numbers to MCI Telecommunications Corp. and Saguaro Credit Union when it began implementing services connected to the CatCard.

Officials admitted they violated federal and state law by releasing the numbers and subsequently retrieved the data.

But CyberMark, which was contracted to provide hardware and software to the university and streamline its information databases, still has Social Security numbers. UA officials have said an exception to FERPA allows the university to release information to the company because it is contracted to maintain a system of records for the university.

"The university is relying on a decision from a federal level to justify its release of information to CyberMark," said Bressi, who during the forum handed Kolbe an envelope packed with CatCard information. "I think they've really stepped outside the bounds of what the FERPA was supposed to do."

The Family Education Rights and Privacy Act prohibits universities, with some exceptions, from releasing "personally identifiable information" without students' consent.

Kolbe, a Republican who has represented Tucson and Eastern Pima County for seven consecutive terms, agreed that ambiguous language within FERPA appears to wrongly permit universities to release information if they document it in their policies.

"Bull - it's not OK," Kolbe said. "The law says you cannot release information to outside groups. I think Congress meant that this information does not go outside the university."

In a meeting with ASUA officials before the forum, Kolbe said the Department of Education, which drafted FERPA, may be in error.

"They seem to have interpreted this in such a loose way that it goes beyond the law," he said.

Kolbe also assured students that he would address the problem when he returns to Washington.

"It is a congressional issue if the law is not being followed," he said.

Kolbe began the hour-long forum by addressing federal policy issues.

Referring to the new "Internet 2" system that Vice President Al Gore unveiled yesterday, Kolbe said he felt the country is ready for change - even if the government is slow to follow its lead. The system will allow an entire 30-volume encyclopedia to be transmitted over a computer network in less than one second.

"The key to our success in the future is our adaptability to constant change," Kolbe said.

Kolbe also said he supports university affirmative action programs that reach out to minority students, but he denounced quota systems.

"Quotas can harm minorities because it puts them in categories," he said.

And Andrew Hayden, ASUA's federal relations director, questioned Kolbe about federal student loan interest rate changes, including a prior proposal to drop the rate to 6.8 percent.

Kolbe said 6.8 percent wouldn't work because banks have threatened not to grant loans. He said there is a proposal pending in Congress to drop the interest rate from 8.23 percent to 7.43 percent, which would prevent banks from refusing to participate.

After the meeting, Hayden lauded Kolbe for leading the forum but said he was upset that so few students attended.

"I think there's a lot of apathy in the student body," Hayden said.

And Margy McGonagill, the UA's federal relations director, said it was a shame more students didn't voice their opinions.

"If kids aren't going to focus now, when are they?" McGonagill said.