By Annie Holub
Arizona Daily Wildcat April 15, 1998

Poetically correct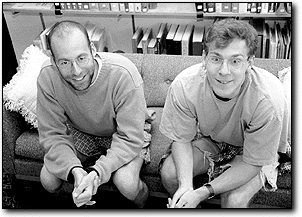 Matt Heistand
Arizona Daily Wildcat

From left, Scott Topper, Honorable Mention recipient in the Student Poetry Contest, and Eric Burger, first-prize winner, hang out in the lobby of the Poetry Center yesterday. Both Topper and Burger will be reading their poetry in the Modern Languages Auditorium tonight at 8, along with other poets.


Every year, the Academy of American Poets and the University Activities Board sponsor the Student Poetry Contest. "Student" meaning anyone who is a student at the University of Arizona, "Poetry" meaning ... let's not get into that one right now ... and "Contest" meaning the winners get recognized by the Academy of American Poets and get to participate in a Poetry Center series reading, which takes place tonight in the Modern Languages Auditorium at 8. The contest is judged by someone different each year, a noted poet who can rightfully asses the skill and caliber of work that every Student Poetry Contest winner should ideally show.

This year, the contest was judged by Tony Hoagland, a poet who lives in New Mexico but who was in the M.F.A .program here a few years back. The winners are current graduate students in the M.F.A. creative writing program. Hoagland recently published a new book called "Donkey Gospel," and his first book, "Sweet Ruin," is regarded by many familiar with modern poetry as beautifully tragic.

Eric Burger won first place with a poem called "The Way I See It." The poem mentions Ouray, Colorado in the first line, which is the coolest little town stuck in between the Rocky Mountains, like it fell out of the sky, got lost and had nothing else to do but stay and make do with what it had.

That, in a way, could be a metaphor for Burger's poem itself. But as he said when asked about the reading tonight, "The thing about poetry is you can't really talk about it - you just have to hear it."

Burger, along with Scott Topper (Honorable Mention), Maggie Golston, Meredith Walters and Jihyuk Han, will be reading his winning poem as well as some other selections from his work tonight, in what Topper called a "standard Poetry Center" reading - the event is free and there will be refreshments afterward.

Golston, Han and Burger are completing their graduate work in May. Walters and Topper are first-year graduate students. Burger and Golston were also part of the graduate student reading that took place April 1.

Topper said his poem, "The Best of Luck," is "sort of a long discursive poem mostly about empathy." It's artistically bold, as poetry can be. In the aftermath of the recent controversy surrounding UA creative writing Lecturer Rebecca Byrkit's reading at the Tucson Poetry Festival (where she began reciting erotic poetry in front of a group of 12-year-olds), it's important to keep in mind that poetry in essence is expressive. And expressive is good.

The ultimate draw of the reading tonight is that it features UA students who are truly talented and who are being recognized as such. The event is really something that shouldn't be missed; you can say you knew them when they were young, aspiring poets reading in the air conditioned and carpeted intimacy of the Modern Languages Auditorium.