By Seth Doria
Arizona Daily Wildcat April 15, 1998

Barnes: 'I'm going to the WNBA'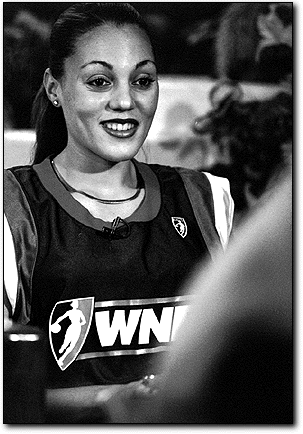 Charles C. Labenz
Arizona Daily Wildcat

UA forward Adia Barnes announced yesterday in a press conference that she has signed a contract with the Women's National Basketball Association. Barnes will soon head to Chicago where she will participate in the WNBA Pre-Draft Camp.


When June 11 rolls around, former UA forward Adia Barnes will embark on a journey no other Arizona women's basketball player has ever gone on.

And though she may not know which team's uniform she will be wearing, one thing is certain: It will belong to a WNBA team. Barnes announced yesterday she has signed with the league, becoming the first player from the UA's program to land a spot in an American professional basketball league.

Players first sign with one of two leagues - the WNBA or ABL - and then are drafted to a specific team.

"I'm very excited to enter the WNBA Draft," Barnes said. "It's great to have the opportunity to play in the United States. I wasn't going to let it pass me by."

So, as the April 29 draft date looms, Barnes will be working to convince scouts who believe she is too small to play forward that she can play the wing slot in the professional ranks.

Surrounded by coaches and media, Barnes thanked everybody from her teammates and coaches, to boyfriend and former UA football player Cary Taylor before saying she chose the WNBA because it meshed best with her plans outside of basketball.

"I want to eventually go to grad school," she said. "It's great to play in the summer."

Since the WNBA season starts in June and runs only 30 games before postseason action, players who sign with the league have the freedom to play professionally elsewhere or concentrate on non-basketball-related goals during much of the year.

But make no mistake about it, Barnes' mind is all basketball as she leaves for Chicago today to attend the WNBA Pre-Draft Camp on the campus of the Moody Bible Institute.

Competition should be tough, as Barnes will be competing against other top players trying to jockey for draft position. Other than Barnes, who won the 1998 Pacific 10 Conference player of the year award, the WNBA has signed nine other players who were named their conference's top talent. Also joining the list is Stanford forward Vanessa Nygaard, a first team All-Pac-10 selection last season.

"There are a lot of adjustments I need to make," Barnes said. "There isn't one aspect I don't need to improve on. Things don't come overnight. Everybody is bigger, stronger and faster. It's just a matter of preparing."

"Adia will get it done," UA head coach Joan Bonvicini said, adding that Barnes never missed a game over the last four years. "She's got a great attitude. We've tried to prepare her the best we can. Given the right situation, she's going to have a great career."

Aside from the excitement of realizing a personal goal, Barnes said she was grateful she even had the privilege to choose to continue her basketball career.

"Those opportunities weren't available," said Barnes when asked if she had dreams of ever playing professionally in the United States. "These are wonderful opportunities for women's basketball and it's getting better."

The move also makes Barnes the first woman basketball player from Arizona to jump to the pros.

"I don't know how to handle it," Barnes said. "It's a great beginning and I'm happy to have the chance to be the first one."