By Mary Fan
Arizona Daily Wildcat April 17, 1998

Protestors bring tales of Nike wrongs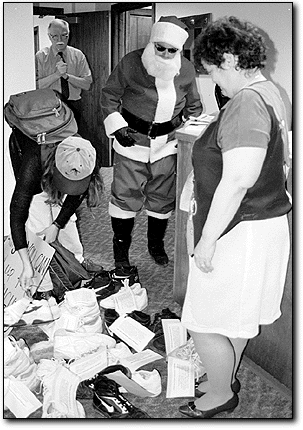 Leigh-Anne Brown
Arizona Daily Wildcat

Monica Wilson (left) and James Tracy (middle) unload used Nike shoes at the feet of university spokeswoman Sharon Kha (right).


As Nike opponents worldwide prepare for a mass-protest tomorrow, the UA's Students Against Sweatshops marched to university President Peter Likins' office yesterday bearing a bundle of cast-off Nike shoes.

The march was Students Against Sweatshops' version of Christmas in April, an annual spring philanthropy, said protester Monica Wilson, a German studies and anthropology senior.

"We're asking the administration to take part in Christmas in April by not signing the Nike agreement," she said.

The march was the UA's contribution to the international Nike mobilization to coincide with the start of tomorrow's Summit of the Americas in Santiago, Chile, where President Clinton, along with other heads of state, will gather to negotiate a trade agreement.

Opponents of the agreement contend it makes it easier for corporations to enter vulnerable, underdeveloped nations to exploit workers.

The march followed a brief but boisterous protest on the UA Mall, where Santa Claus - played by protester James Tracy, a media arts graduate student - made an appearance.

Santa Claus drew passer-by Analiza Grabowski to the frenzy and outfitted her with a sign proclaiming "Nike's been naughty."

"Can you say this: 'Just say no to Nike?'" Tracy asked the 2-year-old girl.

The protesters then strode across the Mall and into the Administration building, riding elevators to Likins' seventh-floor office.

There they were met by university spokeswoman Sharon Kha, who informed them Likins was in Washington, D.C., and could not personally receive their "presents" - donated Nike shoes adorned with reports of sweatshop labor violations.

The shoes bore a number of stories:

A November New York Times report that inspectors found a Vietnam-based Nike factory was exposing its workers to carcinogens that exceed legal standards by 177 times

Campaign for Labor Rights reports that in China-based Nike factories, girls as young as 13 worked more than 15 hours a day for about 10 cents an hour

An Asian American free Labor Institute report that workers in three Nike factories lost fingers due to unguarded machines.

Kha, who spoke in Likins' stead, reiterated his stance that the university should evaluate its relationships with corporations in general and not just Nike.

"We really need to re-evaluate our relationship with all companies, not just start with this one," she said. "We're saying we're willing to go beyond this issue and review our relationship with all corporations."

She asked Wilson what workers had made the sweater she was wearing.

"Don't you think that's a bit hypocritical?" Kha asked.

Wilson told Kha the UA wasn't entering into a contract with the company that made her sweater.

Kha also asked the students why they're protesting now when the UA's men's basketball team has contracted with Nike for 20 years.

Wilson said the protesters had to start somewhere.

"We've just started finding out about it and now we're doing something rather than just saying, 'It's been going on for so long, we can't do anything,'" she said.

When the protesters demanded a meeting with Likins, Kha reiterated his previous message that he has discussed student concerns about Nike with the Associated Students Senate.

"Dr. Likins believes very strongly that the student Senate is elected by the students and he goes there first when there's an issue involving students," Kha said.

When the protest subsided, the pile of shoes were deposited in Likins' office where they sit, awaiting his return Monday.

Earlier yesterday morning, the protesters conversed via phone with Dusty Kidd, Nike's director of labor practices. The teleconference, directed at college media, did nothing to appease them.

"It was the same PR and damage control they've been doing since they've been accused of labor violations," Tracy said.

Kidd said Nike is improving air quality and raising wages in factories.

"It's a big job and we're not perfect at it, but we don't pretend to be," he said.

Nike is being cautious about raising wages because it doesn't want to starve other factories by luring their workers to Nike factories, Kidd said.

"The last thing we want is for a Nike factory to raise wages and hurt a non-Nike factory," he said.

As part of a campaign to address concerns over working conditions, Nike is in the process of hiring independent inspectors to monitor its factories, Kidd said.

Wildcat reporter Susan Carroll contributed to this report.