By Nate Byerley
Arizona Daily Wildcat April 21, 1998

Feminist writer 'breaking silence,' redefining perceptions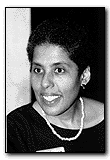 Arizona Daily Wildcat

Barbara Smith, eminent black feminist and activist, will be presenting a reading and discussion of her soon-to-be-published collection of essays, The Truth That Never Hurts, tomorrow night.


One thing you learn early on in the university experience is this: if you want to learn anything about anybody, all you need is the correct spelling of her name and a computer connected to SABIO. Now, if you want a quick indication of whether this anybody is somebody, check and see how many of her works are due six months from today, or worse, just plain missing. Such is the case with Barbara Smith, eminent black feminist and activist, who will be presenting a reading and discussion of her soon-to-be-published collection of essays, The Truth That Never Hurts tomorrow.

After a number of misses, I managed to land a copy of her essay "Towards a New Feminist Criticism," published in 1977 by Out and Out Books. Unable to procure any criticism of Smith's criticism, my job as reporter suddenly became that of critic. But hey, I do have two African American studies courses under my belt.

Actually, this fact alone (my having taken two courses on African-American literature) perhaps speaks best to the influence of Smith's writing. Her revision of the mode in which we view the literary contributions of black women and black lesbian writers has become standard protocol in academia today.

Smith confronts the assumption that African-American literature is merely a subset of American literature. Furthermore, she isolates the tendency in literary criticism to marginalize the experiences of African American women and their writing.

As a result, Smith constructed a framework of "Black Feminist Political Theory" by which to analyze the artistic endeavors of black women. This framework included the acceptance of sexual and racial politics as elemental to black feminist theory, familiarity with black women's literary tradition, an innovative approach to criticism, and the redefining of the term "lesbian" in describing works of African-American women writers.

Smith's style of writing is honest and direct, as is necessary in any public challenge to the status quo. In her essay, Smith honors the groundbreaking women writers who have served to redefine American literature in terms of the African-American female experience, writers like Alice Walker, Zora Neale Hurston, Audre Lorde, and perhaps the most predominant, Toni Morrison.

Smith concludes her essay with a direct indication of her intentions. She says, "I hope this essay is one way of breaking our silence and our isolation, of helping us to know each other." In this, Smith restates the fundamental role of literature: to empower individuals by the validation of their experience.

Since 1977, Smith has been active in the literary world, contributing to or editing a number of works with other notable feminist theorists and activists. The titles of these works -Home Girls: A Black Feminist Anthology, Yours in Struggle: Three Feminist Perspectives on Anti-Semitism And Racism, and All the Women are White, and All the Blacks are Men, but Some of Us are Brave - reveal Barbara Smith's passion. Here's a chance to gain a first hand account.

Sponsored by an array of campus organizations - The Department of Women's Studies, The Southwest Institute for Research on Women, The Extended University, The Diversity Action Council, The Office of African American Student Affairs and The Commission on Women - Smith will be presenting a reading and discussion on The Truth That Never Hurts tomorrow at 7 p.m. in CESL, room 103. On Thursday, she will talk informally of her writing at a Brown Bag luncheon at 11:30 in Room 304 of the University Services Building at 888 N. Euclid. Both events are sponsored by the UA Extended University. For more information, contact the Women's Studies Office at 621-7338.