By Dan Rosen
Arizona Daily Wildcat April 21, 1998

Laxcat offense overpowering, defense dominating in win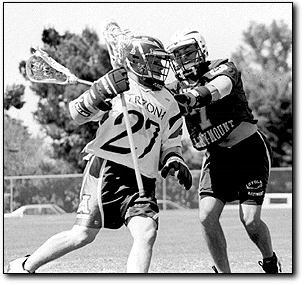 Brian Foster
Arizona Daily Wildcat

B.Foster/Arizona Daily Wildcat Junior attackman Dan Price sheds a Loyola Marymount defender with ease Saturday at Wildcat Field. The Laxcats annihilated LMU in the quarterfinal round of the WCLL playoffs 21-7.


There aren't enough words in the world of sports lingo to describe the Laxcats' victory over the Loyola Marymount Lions in the quarterfinal round of the Western Collegiate Lacrosse League playoffs Saturday.

Pouring it on and ripping the cage wouldn't even do UA justice when you try to recap its 21-7 victory at Wildcat Field.

"This was the best we have ever played as a team," junior midfielder Dan McCarthy said.

Cameron Gingras, Dave Ames, Phil Guiliano, Laurence Bass, Tom Christian and Keith Pepling paved the way for the defense. Meanwhile, Dan Price, who just came back from an injury, Matt Wilkins, Chris Stinson and McCarthy led the rejuvenated offensive charge.

"Danny brings experience back to the attack and allows us to create more havoc for opposing defenses, as we rotate players with different styles," UA head coach Mickey-Miles Felton said.

Price and Stinson each finished the day with four goals and an assist while Wilkins put in three and gave away another two. Kevin O'Donnell had four assists as did McCarthy, who also added a goal to his stats.

"This is unexpected, but we are peaking at the right time and this is good as we go into the Final Four," Price said.

The statement everybody plays, everybody contributes held true for UA. Even freshman midfielder Charlie Hitchins put his first two UA career goals into the back of the cage.

"I think we had an excellent showing and if we work hard it can only get better," Felton said. "I don't think we have been given much respect and now we have everybody back and we're ready to go and earn that well-deserved respect."

The Laxcats' next step will be against California on Friday in Stockton, Calif., in the semifinals of the WCLL playoffs. Cal is 14-1 and currently ranked second in the USILA poll. The Golden Bears defeated the Laxcats 15-10 in Tucson earlier this season.

"This victory over LMU enables us to take the next step in attaining our goals," Felton said.