By Susan Carroll
Arizona Daily Wildcat April 22, 1998

Students gain seats on CatCard Advisory Team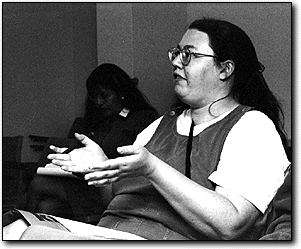 Karen C. Tully
Arizona Daily Wildcat

Non-degree seeking graduate student Kirsten Tynan addresses her concerns at the CatCard Advisory Committee meeting yesterday in the Memorial Student Union. Tynan was worried that there would not be proper student representation on the committee.


CatCard officials yesterday hastily pieced together a committee that will guide UA administrators in making decisions about the controversial new identification card.

But nothing was "set in stone" going into the meeting, Chief Budget Officer Dick Roberts told 14 students, faculty and staff in the Memorial Student Union.

Nor was anything certain after the gathering - except the need for another meeting.

A three-page document, serving as a tentative constitution, formed the basis for discussion about who will sit on the committee.

The draft was "just a place to start," said CatCard Director Liz Taylor, and Roberts immediately echoed the same.

University of Arizona officials recognized the need for an advisory committee after they illegally released student, faculty and staff Social Security numbers to MCI Telecommunications Corp. and Saguaro Credit Union last month.

The advisory group, when it is formally established, will be designed to "keep an eye on the ball," Roberts said.

The CatCard Advisory Team will advise the Executive Team, a handful of administrators and card employees including CatCard Director Liz Taylor and UA attorney Mike Proctor.

Throughout yesterday's meeting, the officials kept upping the number of seats on the committee. At the start, students were given two out of the 14 committee positions.

Kirsten Tynan, a non-degree seeking graduate student, objected that Associated Students senators would automatically land seats on the advisory board without including students from the general population.

"A lot of 'at large' students have been working on this project," Tynan said.

ASUA Sen. Mary Peterson was ready to compromise one of the two delegated seats.

"This is a very minor issue," she said. "I think it is an adequate compromise (to have one student elected at large and one from ASUA)."

Taylor appeased the group by putting all students at the meeting - Peterson, Tynan and history freshman Robert Peters - on the CatCard Advisory Team. One additional ASUA senator and two other graduate students will also be selected, Roberts said.

By the end of the meeting students had captured six seats out of a total of 20.

Roberts assumed the role of advisory committee chairman until another is officially selected.

"I feel very, very strongly this group needs to be able to advise," Roberts said.

The advisory committee will meet again Tuesday at 5 p.m. The location has not yet been determined.