By D. Shayne Christie
Arizona Daily Wildcat September 12, 1997

UA teases motorists with billboards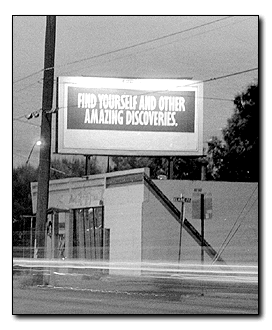 Ryan A. Mihalyi
Arizona Daily Wildcat

Billboards like this one have shown up across Tucson and Phoenix promoting the education that is available at the UA. Sharon Kha, assistant to the president, said the UA will be identified on the billboards Monday.


The UA has decided to follow in the footsteps of Arizona International Campus of the UA, and Pima Community College by advertising on billboards around Tucson and Phoenix.

But you wouldn't know it by looking at them.

The billboards read, "Find yourself and other amazing discoveries," but do not identify who the advertisement is for.

An anonymous source confirmed the billboards are part of a UA campaign, and the funding came from unrestricted private funds from the University of Arizona Foundation. Unrestricted funds are assets contributed to the foundation with no external restrictions as to their use or purpose.

There are 12 such billboards around Tucson, said Heather McMannis, spokeswomanfor Whiteco Outdoor Advertising, the largest billboard company in Tucson.

Such billboards, known as "teasers," are designed to catch the viewers' attention, McMannis said.

"A teaser campaign basically is putting up the copy with no identification of the client. A couple of weeks later you put up the clients name," she said.

Sharon Kha, assistant to the president, said UA Interim President and Provost Paul Sypherd spearheaded the campaign and would be the best source of information.

She said the UA will be identified on the billboards Monday.

However, Sypherd said, "If there were such billboards and if I knew anything about them I could tell you that they would not be funded with public money."

"I think the idea of celebrating the University of Arizona is a great idea. And if the foundation wanted to do that I would be very grateful to them."

As for adding the UA's name to the teaser ads Monday, Sypherd said, "I feel confident that there will be something added to that. If you'll come talk to me after the 15th of September I will learn some more about it."

The cost of the campaign, as well as details about financing are still unknown.

Dana Weir, spokeswoman for the UA Foundation, said she would be willing to respond to questions on those issues after Monday's unveiling.

When asked why the campaign had to be kept a secret, even from UA students who are already enrolled, Weir said only that it is a "teaser campaign" and refused to address further questions until Monday.

Two of the billboards closest to campus are located at East Sixth Street and North Fifth Avenue and East Speedway Boulevard and North Country Club Avenue, said McMannis, who added billboards are one of the most effective advertising mediums in Tucson.

McMannis also said other universities throughout the country use billboard advertisements.

UA students yesterday did not seem to share McMannis' enthusiasm for billboard advertising.

"It makes us seem as if we are desperate," said Kimberly Arthur, an environmental sciences sophomore.

John Kim, a management information systems senior, said, "It might be a reminder, but no way would I go to a university just because of billboards."

Wildcat reporter Alicia Caldwell contributed to this story.