By Susan Carroll
Arizona Daily Wildcat April 24, 1998

Regents hike tuition 5%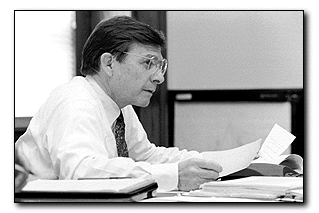 Kristy Mangos
Arizona Daily Wildcat

UA President Peter Likins gives his comments concerning how financial aid may be benefited by a tuition increase, during the Arizona Board of Regents teleconference yesterday. The board decided to increase tuition for in-state and out-of-state students by about 5 percent.


After a month of delays, the Arizona Board of Regents yesterday increased tuition $100 per year for in-state students and $400 per year for out-of-staters.

Arizona residents attending any of the three universities will pay $2,158 for 1998-99, out-of-state students attending the University of Arizona or Arizona State University will shell out $9,110, and out-of-state students at Northern Arizona University will fork over $8,074.

UA President Peter Likins sat in front of a speaker phone in the Administration building as the board of regents debated next year's rates in a conference call.

Despite pleas by student government officials and Student Regent John Platt that tuition be set at 3.5 percent, the board of regents doubled last year's in-state tuition increase.

"I feel very uncomfortable with a 5 percent increase," Associated Students President Gilbert Davidson said. The pleadings of representatives from all three universities for the increase to be set closer to 3.5 percent did not sway enough votes.

Regents pulled out a 6-3 vote in 15 minutes. Platt voted no, as did Regents Jack Jewett and Chris Herstam, who were appointed to the board by Gov. Jane Hull in January. Hull's latest appointee, Kay McKay, supported the 5 percent raise.

The board of regents continued to bash the tuition setting process after the decision.

Regent Don Ulrich called the tuition setting process "faulty," saying it was akin to "hitting a moving target."

The board of regents once again called for a re-evaluation of the process underlying the decision.

Voting without the legislative appropriations had regents at each other's throats at their meeting last month, but was a mute point at yesterday's teleconference.

"I would like to remind you that of everything we do, setting tuition is the most political," Regent Judy Gignac said.

President Likins interrupted the board of regent's tirade on the tuition setting process to bring up financial aid allocations.

"We need to make a financial aid decision now," Likins said. "I must not only plan - I must act. We need to send letters to students telling them what their financial aid is."

Normally, financial aid is allocated as a percentage of the tuition increase by the board of regents, but urging from a number of regents modified management for the fall.

The board of regents voted to put financial aid allocations in the hands of the university presidents, once again igniting discussion of breaking board policy.

"I have complete trust in the presidents of the universities that they will spend this money prudently," Ulrich said.

Likins said after the meeting that he did not want to reaffirm 1.5 percent of the tuition increase will go to student financial aid, as he has said previously.

"I feel that $100 (increase) was more than students expected, and the best way to meet that is through financial aid," he added.

Tuition was increased 6.4 percent to $8,430 for the UA's College of Medicine, as recommended by the school.