By Angela Romano
Arizona Daily Wildcat April 27, 1998

$20M donated to UA Law School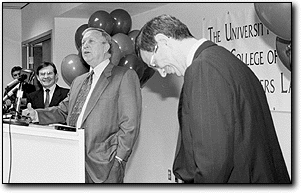 Leigh-Anne Brown
Arizona Daily Wildcat

Benefactor and UA alumnus James E. Rogers (center) cracks up Dr. Peter Likins (left) and Dean of the UA College of Law Joel Seligman (right) at the press conference to discuss the large grant given to the college by Rogers. Rogers' grant consisted of $20 million, the largest sum of money ever given to a law school in the country.


New classrooms, more law library materials, student scholarships and new clinics are just a few of the things UA's College of Law plans to add with a $20 million donation given by a UA alumnus.

"The University of Arizona College of Law is on the brink of becoming one of the best," said donor James E. Rogers. "It has aggressive and visionary leadership, a first class faculty and an outstanding student body. I believe with my financial support and the financial support of other alumni we can make this law school one of the finest law schools of this country."

Rogers' $20 million gift, announced Friday, is the largest donation ever at the UA and the largest amount given to any law school, said Joel Seligman, dean of the College of Law. The University of Pennsylvania law school held the previous record of $15 million.

"It takes a patron of higher learning to understand the profound impact of a massive gift," said UA President Peter Likins.

Rogers is no stranger to helping educational institutions. The Las Vegas attorney owns Sunbelt Communications Education Foundation, which has donated to a number of public and private schools. His donations have been used for scholarships and to provide classrooms and other facilities to schools in the eight cities where he owns television and radio stations.

At the UA, Rogers earned his bachelor's degree in business in 1960 and a law degree in 1962. He earned his master of law from the University of Southern California.

Rogers, who has already donated money to the UA, helped make it possible to renovate and expand the College of Law. He also initiated the Sabbatical Visitors Program, which brings leading scholars from other law schools to teach seminars at the UA, and he has financed the Masters in International Trade Program.

"I participate in building education in each city we go," Rogers said.

In 1997, the Arizona Board of Regents changed the name of the UA College of Law to the James E. Rogers Law Center to recognize his support of the school.

Rogers' latest gift, to be paid over a 13-year period, will go toward facility expansion, including new classrooms and seminar facilities, acquisition and renovation of a building to host four law clinics, improvements to the law library and the creation of student scholarships.