By Craig Anderson
Arizona Daily Wildcat April 29, 1998

Res Life hoping to end bogus drills with video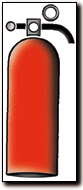 It is 2 a.m. and students are huddled in pajamas and bathrobes in front of Coronado Residence Hall. Under the blare of approaching fire engines' sirens, students are laughing and joking.
Nobody looks worried. It's just another false alarm.
While that has been a familiar scene at Coronado Hall, University of Arizona Residence Life administrators hope a new deterrent system could end bogus fire alarms by focusing video cameras on the perpetrators who activate them maliciously.
"We are pursuing the installment of a number of cameras, all of which would be in areas where there are fire-detection devices," said Jim Van Arsdel, director of Residence Life.
While a contract for the project is still being negotiated, Van Arsdel said he hopes the camera system can be installed before the fall semester begins in August.
Residence Life chose Coronado Hall for the proposed camera system because it has had more false fire alarms this year than any other hall.
"The vast majority of our false alarm problems come from Coronado," Van Arsdel said.
Residence Life damage records show pranksters pulled Coronado fire alarms 11 times last semester. And Charlotte Oliver, Residence Life's customer services manager, said there have been about four false alarms in Coronado so far this semester.
According to Oliver, residents share a hall-wide fee of $350 for each false alarm. The money goes into Residence Life's operating budget, part of which will be used to finance the camera system, she said.
While Oliver estimated the new system would cost about $40,000, Van Arsdel could not confirm the amount and said it is too early to know the actual cost.
Capt. Brian Delfs, a Tucson Fire Department spokesman, said responding to a false alarm costs TFD about $200, although the department does not charge the UA for false alarms.
But the real price, Delfs said, is paid in human lives.
"Our concerns are not with the cost, but with the safety issue," he said. "More firefighters and police die in traffic accidents responding to a call than in an actual fire."
Delfs said victims of real fires may have to wait longer if TFD is out responding to a false alarm.
"You're delaying response time for people who really need it, and you're endangering the lives of firefighters and the public," he said.
Delfs said pulling a false alarm is a serious crime that can result in jail time if anyone is injured as a result.
About 90 percent of the "malicious" false alarms TFD receives each year come from UA residence halls, Delfs said. He said false alarms are so frequent that firefighters who respond to residence halls expect it to be a hoax.
"After responding to so many false alarms, there comes a point where the firefighters suspect it's probably a false alarm," he said.
Delfs said there are more inexpensive alternatives to a video camera system for preventing false alarms, such as a system that sprays alarm pullers with dye.
But Van Arsdel said such a system would be useless because, "People know better than to come back with dye all over them."
Van Arsdel said he even had some doubts about the video system.
"It may not deter students," he said. "It may be perceived as more of a challenge."
Still, Van Arsdel said if the system is successful, Residence Life may install similar monitoring systems in other residence halls.
Coronado resident Riley Sullivan said the camera system would be a relief to residents.
"The system is worth the money because it's worth it not to have to get up in the middle of the night," said Sullivan, a political science freshman.
Undeclared freshman Courtney Simons agreed.
Simons said false fire alarms have forced her out of her Coronado home in the wee morning hours at least 10 times this academic year.
"It's worth not having to get stuck outside in the middle of the night," she said.
Van Arsdel said the inconvenience to students was a serious factor in his proposal to install the system.
"It's disrupting people sleeping. It's disrupting people studying. It's disruptive to the whole community," he said.
False fire alarms last semester:
Coronado 11

La Paz 5

Manzanita-Mohave 2

Arizona-Sonora 1

Yavapai 1

Apache-Santa Cruz 0

Babcock 0

Cochise 0

Coconino 0

Corleone 0

Gila 0

Graham-Greenlee 0

Hopi 0

Kaibab-Huachuca 0

Maricopa 0

Navajo-Pinal* 0

Sierra* 0

Yuma 0

TOTAL 20
*Stadium Halls
Source: Department of Residence Life damage reports