By Susan Carroll
Arizona Daily Wildcat April 30, 1998

CatCard committee staggers on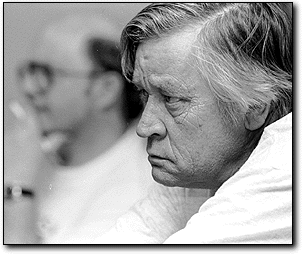 Charles C. Labenz
Arizona Daily Wildcat

Lou Tenney, president of the UA Staff Advisory Council, listens to comments at yesterday's CatCard Advisory Commitee meeting. The committee decided to form another group to look at privacy in general.


The CatCard Advisory Committee yesterday failed to come up with an official process to legitimize its own existence and instead started a second committee to deal specifically with privacy concerns.

During its second meeting in the Memorial Student Union, a dozen faculty, staff and students scuffled over the composition of the recently approved committee and its purpose.

"This meeting was intended to get the CatCard Advisory Committee formed, but it turned into a cat fight," said Lou Tenney, president of the Staff Advisory Council.

Disagreement on the committee's intended role tied up the meeting for more than an hour. Some members thought it should focus on privacy issues, while others wanted to proceed with expanding the CatCard's available services.

"We're on the horns of a dilemma," Chief Budget Officer Dick Roberts said.

The disagreement finally resulted in the formation of yet another group - the UA Privacy Advisory Committee.

The new advisory committee is supposed to address the general issue of guarding student and employee personal information, some of which is protected by federal law.

The original CatCard Advisory Committee was formed in the wake of the UA's illegal release of student and employee Social Security numbers to MCI Telecommunications Corp. and Saguaro Credit Union.

Although UA administrators asked the companies to purge the protected information, the CatCard debacle has had administrators in the hot seat for over a month.

"To be frank, I don't really care about the CatCard itself," said Terrence Bressi, a Lunar and Planetary engineer. "What I'm interested in is my privacy ."

Bressi and others thought the committee should focus on broader privacy concerns facing the university rather than CatCard-specific problems.

"The CatCard is simply a piece of plastic," said Joel Hauff, UA Residence Life's conference services manager. "I suggest we take this committee further."

But the meeting could not move forward without official members or voting power.

CatCard Advisory Committee members are supposed to be appointed through a specific process, but CatCard Director Liz Taylor circumvented this process last week when she appointed three students to the committee, in a last-minute attempt to appease CatCard critics.

Although Taylor told the students they could serve on the committee, the official set-up involves appointments from the student population at large, Associated Students Association and Graduate and Professional Student Council.

By definition, the Advisory Committee has no decision-making power, but will make recommendations to the CatCard Executive Team, which includes Roberts, Taylor and a number others involved with the program's implementation.

Resolving the confusion between the formal appointment process and Taylor's committee additions will be up to UA President Peter Likins, Roberts said.