By Chris Jackson
Arizona Daily Wildcat May 1, 1998

UA baseball team needs a sweep at Cal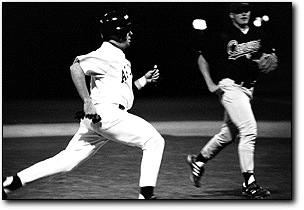 Matt Heistand
Arizona Daily Wildcat

Designated hitter Rob Shabansky (19) steals home plate after a Grand Canyon University pitcher threw a wild pitch Tuesday night at Frank Sancet Field. The Wildcats are on the road this weekend at California in need of a sweep to advance to regional play.


The Arizona baseball team is on the bubble.

With an 11-16 record in the Pacific 10 Conference's Southern Division, the Wildcats need an at-large bid to make it into the NCAA Regionals.

Today the Wildcats (32-21 overall) travel to play the California Golden Bears in Berkeley, Calif., for the start of a three-game series to end their regular season.

"It's huge," UA senior left fielder Jason Hendricks said. "The bottom line for us is to go up there and win three. We're just going to take it a game at a time though."

Hendricks and the Wildcats have put together a late-season surge that could carry them into the postseason. UA won 2 of 3 at Arizona State last weekend and then came home and clobbered nonconference foe Grand Canyon 20-6 Tuesday night.

The Bears (18-29, 3-23 Six-Pac) have had a rough time this season, but they have been playing giant-killers of late, winning two games against No. 1 Stanford and blowing out Santa Clara 19-4.

Earlier this season the Wildcats swept the Bears in Tucson and last year they swept the series in Berkeley, but UA head coach Jerry Stitt is not about to use that as a guarantee history will repeat itself.

"They're playing a lot better now," he said. "They played Stanford tough. They're better than they were last year."

Arizona enters the series with its starting rotation in flux. Stitt said junior left-hander James Johnson (6-3, 5.12 ERA) is a lock to start tonight's contest, but the starters for Saturday and Sunday won't be decided until after this afternoon's 2:30 game ends.

Candidates include junior right-hander Darrell Hussman (4-5, 9.65), who had a solid appearance in relief against ASU, sophomore southpaw Tony Milo (8-5, 6.81), who got the win against Grand Canyon after being rocked by ASU, senior right-hander Tyler Haddix (1-1, 7.28) and sophomore right-hander Dave Abbott (3-2, 8.49).

"Every guy has got to produce this weekend," Stitt said. "Every guy is swinging the bat well, they're almost all playing good defense and the pitchers have been throwing strikes. There's not much more I can ask from them."

Milo said the 14-run win over the Antelopes has given Arizona, and himself, a boost going into Berkeley.

"Yeah, we definitely have a lot more confidence now. I know I do," he said. "We're going to sweep them. I guarantee it."