By Scottie Bricker
Arizona Daily Wildcat May 1, 1998

Tried, Tested, True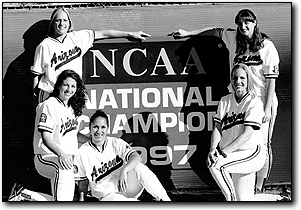 Ian Mayer
Arizona Daily Wildcat

Senior members (from left to right) Leah Braatz, Nacy Evans, Leticia Pineda, Alison McCutcheon and Tiana Hegduk of the UA softball team pose in front of their 1997 Championship banner during media day at the beginning of the season. The group has surpassed school and national records while compiling a winning percentage of .920.


The accolades are endless. The list of mountains conquered stretches higher than any of their individual peaks.

But more remarkable than any title won, record broken or performance turned in on the field is the way the seniors of this year's Arizona softball team have overcome seemingly insurmountable odds in their personal lives while becoming arguably the best senior class in the history of this storied program.

Between them, Leah Braatz, Nancy Evans, Leticia Pineda, Alison McCutcheon and Tiana Hejduk have three NCAA Championships, a winning percentage of .920 and have eclipsed several school and national records, with more set to fall with two weeks remaining in the regular season plus the postseason.

Off the field, however, they have endured such trying and emotional times as a broken foot, the birth of a baby boy, playing three different positions in as many years and adjusting to life after transferring from a school clear across the country.

"I have watched them all grow up a great deal in their time here," UA head coach Mike Candrea said of his five seniors. "They have all gone through moments of insecurity but they have moved through those and become very successful."

As if any of their individual trials were not enough to deal with, they were presented with an example of the rude fragility of life when their teammate and classmate Julie Reitan died last summer from hypoglycemia.

"The most memorable event of my time at Arizona was meeting Julie Reitan," Hejduk, a California native, said. "Knowing her as a person was one of the greatest rewards I could have ever received."

Hejduk began her collegiate career at Boston University, where she earned first-team honors for the North Atlantic Conference as well as being named to the GTE All-America team. She transferred to UA after her freshman year and made an immediate impact to a team that made it to the NCAA College World Series title game the year before.

But since her sophomore year, she has spent most of her time on the bench, forced to watch her teammates perform on the field while she cheers them on from the sideline.

"It has been tough especially because everyone wants to play," Hejduk said. "But just to be a part of this team and be able to help the freshmen grow is the greatest thing."

"Unfortunately Tiana hasn't had the chance to show people the kind of athlete she really is," Candrea said. "She came here wanting a chance to compete at a higher level and she has always had smile on her face and her head screwed on straight."

Evans and Braatz each took a year away from the team to redshirt - one for an injury and the other to give birth - and have come back to perform at a higher level than where they competed before their redshirt year.

Following her broken right foot near the end of the 1995 season, Evans underwent extensive rehabilitation to prepare for the following campaign. But when efforts did not meet the expectations of Candrea and his staff, Evans took a medical redshirt year to make sure the foot would sustain the rigors of a demanding pitching rotation that would see Evans make between 35-45 starts.

"I learned a lot about myself through all of my experiences at Arizona," Evans said. "From the friendship with teammates to relationship with coach. It was a once-in-a-lifetime experience and I would do it all over again in a heartbeat."

"Nancy and Leah have both worked very hard to eliminate their faults," Candrea said.

Pineda, a first baseman this year, spent last year at third base and the year before behind the plate, filling in for the pregnant Braatz while she redshirted.

Despite being shuffled from one corner of the diamond to another, Pineda has excelled both at the plate and in the field, batting over .370 while committing just 19 errors.

"Lety has a great understanding of her role on this team," Candrea said. "She has adjusted well to everything that has been thrown at her."

McCutcheon, the final senior, currently holds the NCAA career hits record and is closing in on the career stolen bases mark at UA. She has performed flawlessly in the batting order's lead-off position and has been the center point of the outfield for nearly four full seasons.

But what strikes McCutcheon most is what she will leave behind when she finishes her career in an Arizona uniform.

"I don't know how I will get used to the idea of life after softball," McCutcheon said. "There is so much to be thankful for, especially the friendships I have made here. I just hope we all keep in touch."

Faced with the uncertainty of what to do after school is behind them, this distinguished group of talented athletes will most certainly be remembered for more than just the numbers they compiled.

"I hope the underclassmen have seen our examples and what they have experienced will help them in the future," Evans said. "They can take what they have seen and use it further down the road when they end up where we are now."
SeniorSuccess
NCAA Championships they have been a part of: 3

First-team All-America honors: 8

First-team All Pacific 10 Conference honors: 8

Number of positions played: 9

Number of games won: 269

Number of games lost: 26

Number of season-ending injuries: 1

Number of redshirt years used: 2