By Susan Carroll
Arizona Daily Wildcat May 4, 1998

Debate rages on over rights of student newspapers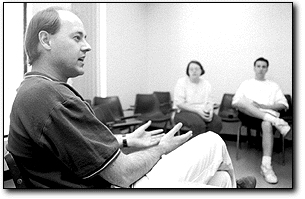 Matt Heistand
Arizona Daily Wildcat

Executive Director of the Student Press Law Center in Arlington, Va., Mark Goodman talks to Wildcat staffers about rights of student newspapers. He urged better access to student records and more comprehensive reporting to keep newspapers out of court.


As college presses across the country shore up for major court battles defending students' right to know, the future of college newspapers remains less than secure.

Mark Goodman, executive director of the Student Press Law Center in Arlington, Va., guided journalism students Friday through a maze of court cases defining students' right to publish information.

Goodman, who was in Tucson Friday to accept the Journalism Department's John Peter and Anna Catherine Zenger Award for Outstanding Contribution in Support of Freedom of the Press, takes a hard line on the information universities should make public.

"Schools have to give more information, or they will find themselves in court," he said.

The Family Educational Rights and Privacy Act has been the major barrier between students' quests for information about the safety, criminal proceedings and administrative decisions at their schools, Goodman said.

FERPA, a federal law, hit the books the same year the Student Press Law Center was established. The 1974 act prohibits schools from releasing students' "personally identifiable information."

"The law is so abused, it's so confusing," Goodman said. "In my mind, the solution is a whole-scale dumping of FERPA and starting over."

Jim Mitchell, who teaches a UA media law course, agreed that FERPA should be discarded.

"It's viable and necessary in my mind," he said.

Mitchell said he wants to see campus crime records and disciplinary proceedings open to the public.

"FERPA is a two-edged sword, and both edges are being used against the campus community," Mitchell said.

He said many universities use FERPA as a shield against releasing information that would put the school in an unfavorable light, but there is no punishment for releasing the information when they choose to.

"FERPA has become a law that schools can follow when they want to and not follow when they don't," Goodman said.

Two court cases have supported First Amendment protection for universities in the face of FERPA.

A 1993 Georgia case opened campus court hearings at the University of Georgia after the state Supreme Court ruled campus court records are not protected by FERPA.

Goodman called the ruling "incredibly lucky," saying it set a positive precedent.

"One of the things I think we need to study is what happened at the University of Georgia," he said.

Goodman said open judicial hearings have no negative consequences, and the same number of witness would come forward in the open courts.

Another case forced Miami University of Ohio to release student disciplinary records to its school paper. But these changes have only come in two states, Goodman said.

"The solution ultimately has to be some pretty dramatic changes in FERPA," he said.

Goodman said a Maryland case closely parallels a battle by the Arizona Daily Wildcat to obtain records of UA disciplinary proceedings.

The University of Maryland's student newspaper, The Diamondback, is suing its school to obtain parking ticket records of student athletes.

Goodman said the case should be decided within the week.

"That will be a signal, too, to send a message about whatever FERPA does or doesn't cover," he said.

Mitchell and Goodman were optimistic about the future of college presses.

"There are many differences from one college paper to another," Mitchell said. "The future of the college press at the U of A is looking very robust."