By Eric Anderson
Arizona Daily Wildcat May 4, 1998

'The Big Hit' packs punch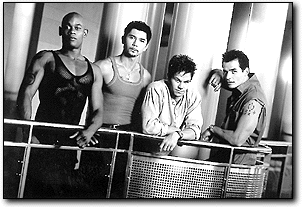 Photo courtesy of TriStar Pictures
Arizona Daily Wildcat
(Left to right) Crunch (Bokeem Woodbine), Cisco (Lou Diamond Phillips), Mel (Mark Wahlberg) and Vince (Antonio Sabato, Jr.) are a group of hitmen who get involved in a kidnapping gone wrong in "The Big Hit."

Travel back in time with me for a moment, if you will.
The year is 1989. Rap music is at its peak. Drop-crotch pants are all the rage. And all the world knows of Mark Wahlberg, besides the fact that he's the little brother of New Kid On The Block Donnie (who always was the coolest New Kid, now that I think about it), is that he likes showing off his Calvins, while singing about "Good Vibrations" under the moniker of Marky Mark.
Now, fast forward to the present day - nine years and three movies later, Marky Mark has left his "Funky Bunch" behind in pursuit of Hollywood stardom. After playing the likes of a drugged-out, inner-city basketball player (The Basketball Diaries), an obsessed boyfriend (Fear), and a rising porn star (Boogie Nights), Wahlberg now tackles the role of Melvin "Mel" Smiley, a professional hit man who seems to care way too much about what the world thinks of him, in director Che-Kirk Wongs' North American debut, "The Big Hit."
This non-stop, action-packed thriller, which chronicles the activities of Mel and his gang of mercenaries, was produced with the help of Wesley Snipes' production company, Amen Ra, as well as worldly-acclaimed action director John Woo ("The Killer," "Hard Boiled," "Face/Off"). Known for his seemingly-unbelievable, but thoroughly impressive stunt scripting, Woo's presence is clearly evident throughout this movie, with extravagant shoot-outs, nerve-rattling chases, and earth-shattering explosions.
It is, in fact, Woo's expertise combined with some very talented stuntmen, that make this tale of a kidnapping-gone-awry a very enjoyable one. Although, there is more than one instance where we're sure we've said goodbye to a character, only to be shown through some very cool and rather unique flashback sequences just how our characters have escaped from the jaws of death.
Along with Wahlberg, Lou Diamond Phillips ("La Bamba," "Young Guns") plays a starring role, cast as Cisco, a money-obsessed hit man who claims to have "nuttin' but love" for everyone he meets (usually right before he betrays them). Rounding out the gang of hitmen are the level-headed Vince (Antonio Sabato, Jr.), the truly indescribable Crunch (Bokeem Woodbine), and the stuttering hit man, Gump, played by Robin Dunne.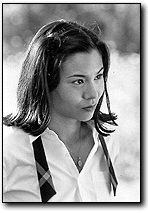 Photo courtesy of TriStar Pictures
Arizona Daily Wildcat
China Chow plays Keiko, the criminals' intended kidnap victim, who turns out to be the godchild of their boss, in "The Big Hit." The film opened Friday at area theaters.
The movie follows the gang as they carry out jobs for their underworld boss, Paris, played by Avery Brooks, who is most recognized for his role as Captain Sisko on "Star Trek: Deep Space Nine." However, things do not go quite as planned for our beloved hitmen when the group decides to make some quick cash by kidnapping a rich Japanese filmmaker's daughter, played by China Chow, who does a good job in her role as Keiko, her first on-screen performance.
Add to the mix a money-hungry mistress played by Lela Rochon, a beautiful fiancée, Pam, played by Christina Applegate, and her disapproving, highly kosher parents, played by Elliot Gould and Lainie Kazan, and it is clear why Mel's medicine cabinet is constantly filled with Maalox.
"The Big Hit" is a highly explosive, non-stop action thriller. Wahlberg is surprisingly believable in his role, while solid performances by Phillips, Chow and Brooks help carry the film. If this is Che-Kirk Wong's first North American release, I can't wait for his second.